Dr Albert Chi-Yan CHAN 陳智仁
Dr Albert Chi-Yan CHAN 陳智仁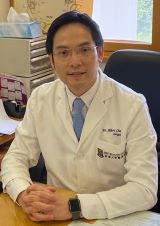 Clinical Associate Professor
MBBS(Lond), MS, FRCSEd, FCSHK, FHKAM(Surgery)
Expertise
Surgical management of liver cancer
Downstaging/neoadjuvant and adjuvant treatment for hepatocellular carcinoma
Pancreatic cancer
Minimally invasive HBP surgery
Liver transplantation
Biography
Dr Chan is currently the Clinical Associate Professor of Surgery in The University of Hong Kong and Honorary Consultant in Queen Mary Hospital. He is specialized in the surgical management of liver cancer, pancreatic cancer and biliary tract cancer as well as living donor liver transplantation.

He graduated from King's College London Medical School, University of London in 2001 and attained his fellowship with the Royal College of Surgeons, Edinburgh and the College of Surgeons, Hong Kong in 2008. He acquired his Master of Surgery in 2019.

Dr Chan is renowned for performing complex liver surgery for locally advanced cancer. He is a pioneer for the ALPPS procedure (Associating Liver Partition and Portal Vein Ligation for Staged Hepatectomy) for hepatocellular carcinoma with one of the world largest single-center experience to date, as well as having performed the world-first ALPPS in a child with hepatoblastoma on 24 October 2013 (Chan et al. World J Gastroenterol 2014. 20(29): 10208-10211). He is also renowned for expanding the role of liver resection for locally advanced cancer via surgical techniques adopted from liver transplantation as well as using neoadjuvant downstaging treatment. Regarding his contribution to liver transplantation, he was one of the chief surgeons for the first auxiliary living donor liver transplantation, the first dual graft and the first donor interchange liver transplantation in Hong Kong. Last but not least, Dr Chan is an advocate for using innovation and technology to improve patient safety by pioneering the use of 3-dimensional (3D) laparoscopy for major liver resection in Queen Mary Hospital.

Dr Chan is currently the chairman of the Vanguard Committee in International Liver Transplant Society (ILTS). He was the Past President of the Asian Surgical Association (2015-2017). He also holds several academic positions in various international professional bodies including Scientific Committee Member of the International Hepatopancreatobiliary Association (IHPBA); Scientific Committee Member of Asia Pacific Primary Liver Cancer Expert (APPLE) Association; Councilor, Asian Surgical Association, Council member of Hong Kong Society of Hepatobiliary and Pancreatic Surgery, and Hong Kong Society of Transplantation, as well as Principal Investigator of the State Key Laboratory for Liver Research in the University of Hong Kong.

In terms of scholarly achievements, Dr Chan was recently selected by the American College of Surgeons to be the Dr. Abdol and Mrs. Joan Islami International Guest Scholars (the first named award within the College's international guest scholarship program) for the year 2018. He was also previously awarded the GB Ong Travelling Fellowship in 2014 for his visit to the Memorial Sloan Kettering Cancer Center in USA, and achieved the Best Research Output in the Department of Surgery for two consecutive years from 2013-14. He has completed 6 book chapters and published over 150 articles in peer-reviewed journals including Annals of Surgery, Transplantation, and Liver Transplantation, and delivered numerous invited and plenary lectures in various locoregional and international meetings.
Research interests
Transplant oncology
Regenerative and complex liver surgery e.g. Associating Liver Partition and Portal Vein Ligation for Staged Hepatectomy, Portal Vein Embolisation
3D laparoscopic liver surgery
Publications and achievements