Events
Hong Kong Surgical Forum 2022 (Hybrid)
The Hong Kong Surgical Forum is a biannual Spring and Autumn meeting which has continued without a break since its inception in 1983. It is an international postgraduate meeting held over a weekend.
Topics are of current interest to both general surgeons and surgeons in more specialized fields. Each topic is presented by invited distinguished guest speakers including leading surgeons from overseas.
Innovation and technology has become an integral part of modern development across all specialties in surgery. With this in mind, our aim is to provide a platform to showcase the state-of-the-art innovations as well as emerging technology with implications for clinical applications in various disciplines of surgery. Due to the COVID-19 pandemic, the Forum 2022 will be conducted on a Hybrid Version.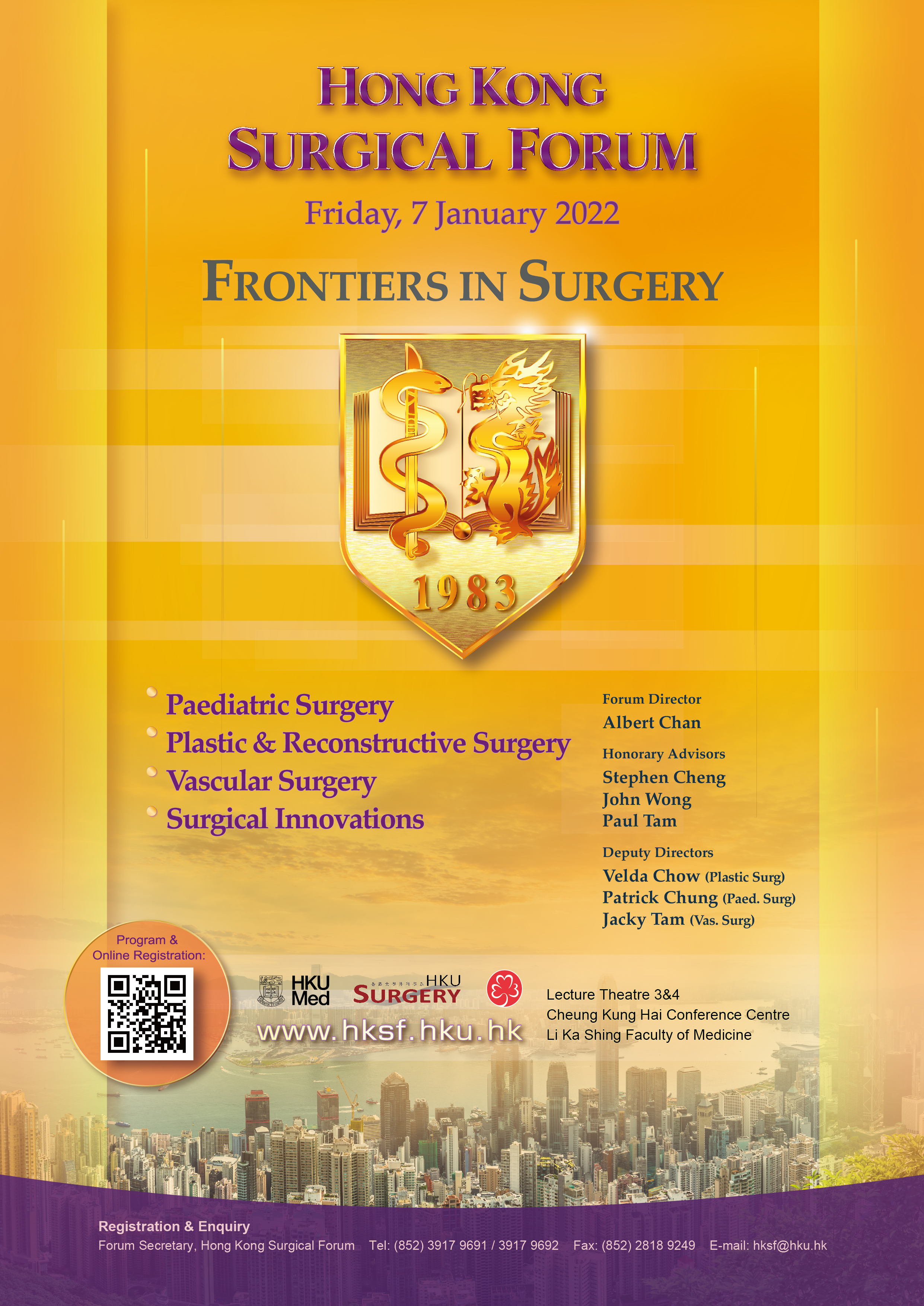 Hong Kong Surgical Forum 2022 (HYBRID)
Date:
Friday, 7 January 2022
Invited Speakers:

Paediatric Surgery

Mary Brindle, University of Calagry, Calagry
John Meehan, Seattle Children's Hospital, Seattle
Weibing Tang, Nanjing Medical University, Nanjing
Hiroo Uchida, Nagoya University, Nagoya
Atsuyuki University Nagoya

Plastic and Reconstructive Surgery

Yu-Ray Chen, Chang Gung University, Taipei
Bernard Devauchelle, Amiens University Hospital, Amiens
Robert Levine, University of Southern California Keck School of Medicine, Los Angeles
Peter Neligan, University of Washington, Washington

Vascular Surgery

Stephen Black, Guy's and St Thomas' Hospital, London
Erin Murphy, Atrium Health University City, Charlotte
Julian Wong, National University Heart Centre, Singapore

Program:

Visit our website www.hksf.hku.hk for more information

Program (Coming soon)

Registration:

Registration Fee: FREE

Organising Committee:

Honorary Advisor
Stephen Cheng
John Wong
Paul Tam

Director
Albert Chan

Members
Velda Chow
Patrick Chung
Jacky Tam

CME/CNE Accreditation:
To be announced
Contact:
Forum Secretary
Department of Surgery
The University of Hong Kong
Queen Mary Hospital
Pokfulam, Hong Kong

Tel:
(852) 3917 9691 / 3917 9692
Fax:
(852) 2818 9249
E-mail:
hksf@hku.hk
Organisers:
Department of Surgery
Li Ka Shing Faculty of Medicine
The University of Hong Kong
Queen Mary Hospital