Professor Stephen Wing-Keung CHENG 鄭永強
Professor Stephen Wing-Keung CHENG 鄭永強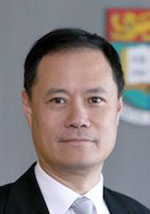 Department Chairperson
Serena HC Yang Professor of Vascular Surgery
Chief of Service (Surgery)
Chief of Division of Vascular Surgery
MBBS(HK), MS(HK), FRCSEd, FRCS(Eng), FCSHK, FHKAM
Expertise
Biography
Professor Stephen Wing-Keung Cheng obtained his qualifications in medicine at The University of Hong Kong in 1984. He received his training in General Surgery and Vascular Surgery at the Department of Surgery, Queen Mary Hospital. In 1991, he was Visiting Assistant Professor at the University of California, San Francisco, USA where he pursued his specialty interest in Vascular Surgery. He took up the present position as Chief of the Division of Vascular Surgery and Director of the Francis Y.H. Tien Vascular Disease Centre and the Vascular Laboratories in 1992, and is currently the Serena HC Yang Professor of Vascular Surgery at The University of Hong Kong.

His main interest is in Vascular Surgery and Endovascular treatment of occlusive and aneurysmal diseases. He was elected Distinguished Fellow and Honorary Member of the Society for Vascular Surgery, and honorary member of the Australian and New Zealand Society for Vascular Surgery and Society of Clinical Vascular Surgery; member of the European Society for Vascular Surgery, Executive Board Member and Asian Chapter Secretary of the International Union of Angiology, and National Representative in the International Society for Vascular Surgery. He is immediate Past President of the Asian Society for Vascular Surgery, and immediate Past President of the College of Surgeons of Hong Kong. He is on the Executive Board of the Chinese Society of Vascular Surgery and the Editorial Board of the Journal of Vascular Surgery and the Chinese Journal of Vascular Surgery. He held Visiting Professorships at the University of British Columbia, and the Imperial College of Science, Technology and Medicine in London.

Professor Cheng played a key role in the development of Vascular Surgery in Hong Kong, having established a renowned unit and the first non-invasive Vascular Laboratory in Queen Mary Hospital. He led the development of endovascular intervention of peripheral vascular diseases, and pioneered the development of endovascular aortic stent grafting for aortic aneurysms and dissections in Southeast Asia. He has been invited to lectures and hold workshops for advanced endograft techniques in many countries in Asia.

Professor Cheng's research is directed toward aspects of aortic aneurysms and aortic dissection, including pathogenesis, hemodynamics and endovascular treatment of complex aneurysms; as well as in peripheral vascular disease, especially epidemiology, atherogenesis, and carotid stenosis. He has authored over 200 publications in peer-reviewed journals and book chapters in the specialty.
Publications and achievements