Contact Information
| | |
| --- | --- |
| Address: | 14th Floor, South Wing, Block K, Queen Mary Hospital |
| Telephone: | (852) 2255 4970 |
| Fax: | (852) 2255 4967 |
| Email: | Vascular@hkucc.hku.hk |
Scope and service
The Francis Y.H. Tien Vascular Centre of the Department of Surgery was first established on 11 July 1997 at South Wing, 14/F, Block K of Queen Mary Hospital. The Centre is committed to providing the highest medical care in Vascular Surgery, promotion of patient education, as well as disease surveillance and screening, prevention and vascular medicine research.
With further generosity from Mr. and Mrs. James Tien in 2010, the Centre has now expanded to include the entire 14th Floor which encompasses the existing vascular laboratories, a modern 27-bed ward, a 5-bed High Dependency Unit, a specialist wound care clinic, a patient education area, and advanced computational workstations for integrated operation planning.
The clinical activities of the Centre are supported by dedicated vascular surgery clinics (three per week), with more than 6,000 attendances a year, including 600 new cases. Our Vascular Laboratory is staffed by three Registered Vascular Technologists and conducts 3,000 diagnostic examinations annually. Over 500 operations a year are performed, of which more than 300 are major arterial reconstructive procedures, including repair of aortic aneurysms and dissection (open repair / endovascular stent-graft repair), peripheral arterial revascularization (open bypass surgery / percutaneous balloon angioplasty and stenting) for atherosclerotic occlusive disease, carotid surgery (carotid endarterectomy / carotid artery angioplasty and stenting) for stroke prevention and haemodialysis access creation for end-staged renal failure patients who need haemodialysis.
In June, 2011 an endovascular operating suite has been set up in the operating theatres at 11/F., Block K of Queen Mary Hospital, in which complex and advanced arterial procedures can be performed in a minimally invasive manner.
With the expansion of the Centre encompassing the vascular diagnostic laboratory and the vascular surgery ward on the same floor, together with the setting up of the endovascular operating theatre in the same building, a one-stop service for screening, diagnosis, treatment, follow-up and surveillance of vascular diseases can be provided. The service is supported by a full-time, dedicated team of vascular surgical specialists.
Overview of Vascular Centre Service
Provides noninvasive examinations for quick and precise diagnosis
Evaluate the presence, site and severity of vascular diseases
Provides information that complements clinic impression and invasive diagnostic procedures
Provides patients with a multi-disciplinary approaching in management of vascular diseases, with medical control of risk factors, traditional open surgery, minimally invasive endovascular procedures, specialist nursing care and input from paramedical professionals
Continual screening of patients who are at risk of developing vascular diseases
Education and training of health care personnel, doctors, medical students and the public
Scientific research in vascular medicine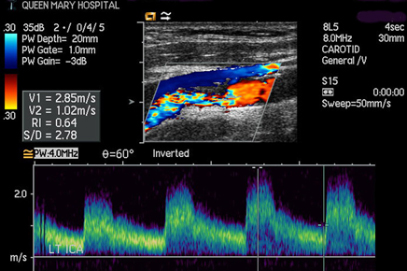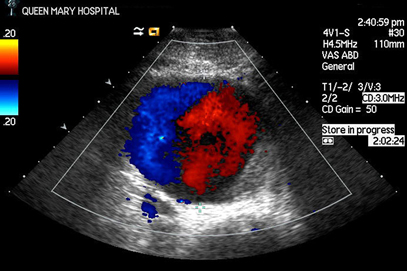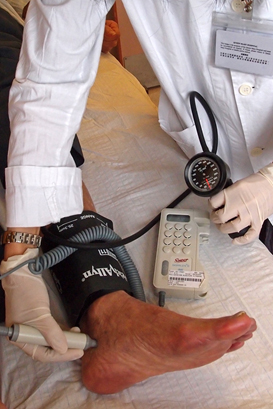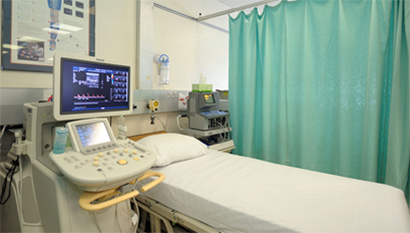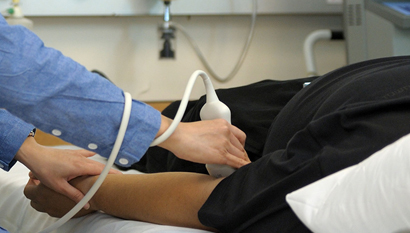 Service provided by Francis Y H Tien Vascular Centre
Management of Abdominal Aortic Aneurysm
Provides screening of asymptomatic patient by Duplex ultrasound
Operative management of abdominal aortic aneurysm, traditional open repair or endovascular aortic repair (EVAR) which includes complex hybrid procedures and also custom-made fenestrated, bracnched grafts and iliac-branch devices.
Vascular specialist clinic follow-up and surveillance post-operative patients with imaging: Duplex ultrasound, computer tomography and angiogram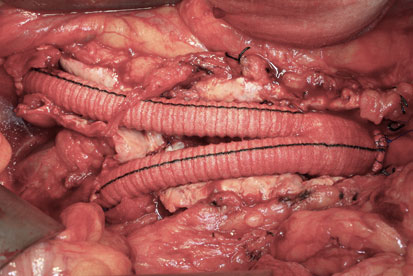 Number of hepatic resections performed over the past 28 years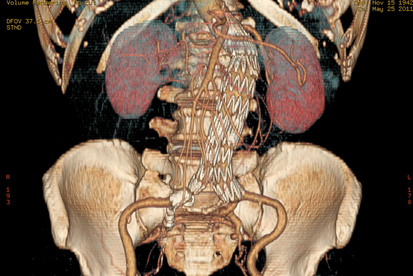 A 3D CT reconstruction of the abdomen after an EVAR operation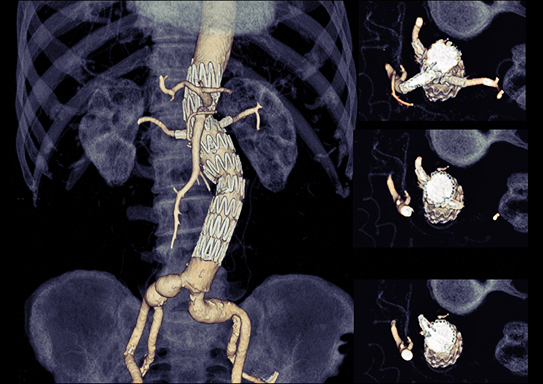 Custom-made fenestrated EVAR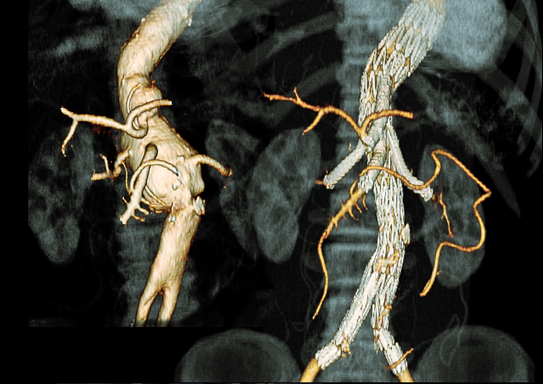 Custom-made branched EVAR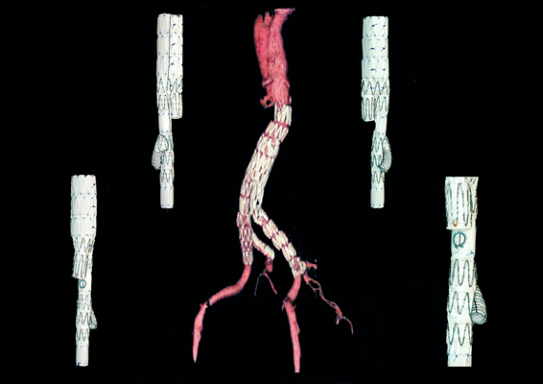 Iliac branched device
Management of thoracic aortic dissection and thoracic aortic aneurysm
Surveillance and early detection of complications of aortic dissection like aneurysm degeneration
Provide treatment of aortic dissection with or without aneurysm formation by thoracic endovascular aortic repair (TEVAR) which includes complex hybrid procedures and state-of-the art complex custom-made branched and scalloped aortic arch device
Vascular specialist clinic follow-up with regular computer tomography scanning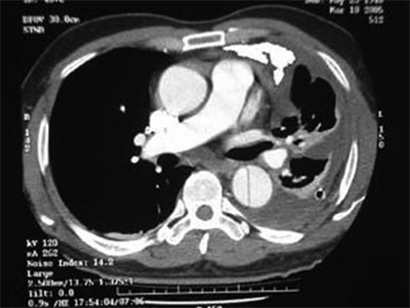 CT Scan of thoracic aortic dissection. A flap with fenestration divided aorta into true and false lumen