Contact Information
| | |
| --- | --- |
| Telephone: | (852) 2255 4760 |
| Fax: | (852) 2817 2291 |
Background
The Division of Endocrine Surgery (ECS) is the only full-time surgical unit in Hong Kong that solely takes care of patients with a thyroid, parathyroid, adrenal or endocrine pancreatic problem. According to the annual Hospital Authority territory-wide audit (or SOMIP in short), our team has consistently been ranked as one of the highest volume endocrine surgical centers in the territory. Approximately 300 – 350 thyroid resections and 40 – 50 parathyroid resections are done annually by our team of surgeons. Apart from providing the highest standard of surgical care, our team has an immense interest in teaching & learning, research and clinical innovations.
Apart from teaching our own undergraduate medical students, the team has mentored many surgical trainees and overseas fellows interested in ECS. Through this fellowship program, many of our overseas fellows have become a leading surgeon in their respective country.
In research, one of the main focuses has been to gain a clearer understanding of the disease process in benign nodular disease (goiter), thyroid carcinoma, Graves' disease, hyperparathyroidism, adrenal tumor, pancreatic neuroendocrine tumor and other less common endocrine familial syndromes. The division has been conducting clinically relevant and translational researches. Many of our research work have resulted in high-impact publications and presentations at international conferences allowing a greater dissemination of our experience.
The team has also been innovative in its treatment of various thyroid and endocrine-related diseases. For example, the team was the first in the territory to adapt robotic-assisted thyroidectomy. We were also the first in Asia to use high intensity focused ultrasound (HIFU) ablation in the treatment of symptomatic thyroid nodules. In surgical innovations, we were one of the early adaptors of the trans-oral vestibular thyroidectomy and the first to conduct a registered trial looking the safety of this approach.
Thyroid diseases and thyroid cancer
More than 800 new patients with thyroid diseases are seen and 300-350 thyroid procedures are performed annually. Nodular goiter remains the number one reason (60%) for surgery. Ultrasound-guided fine needle aspiration cytology is commonly done in the outpatient clinic. Our reported incidence of surgical morbidities is among the lowest in the territory. Our permanent hypoparathyroidism and vocal cord palsy are 1.6% and 0.9% respectively.
Thyroid cancer is the most common endocrine malignancy. All patients with thyroid carcinoma are managed by a standard protocol. Adjuvant radioactive iodine treatment and whole body scan, external beam irradiation are given selectively. Patients are closely followed in the Combined Thyroid Clinic jointly with the radiation oncologist.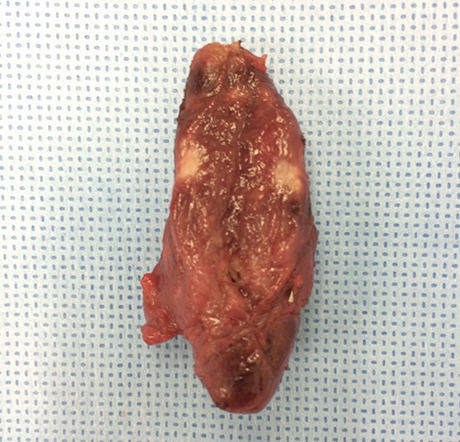 Papillary thyroid carcinoma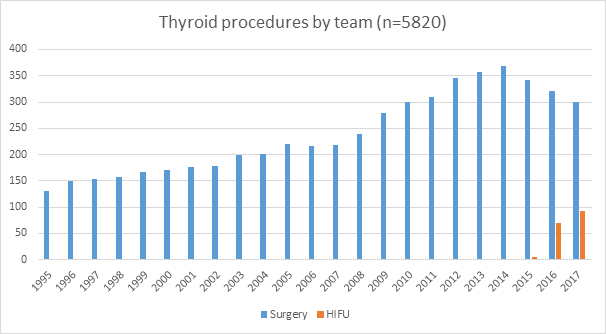 Annual case volume from year 1995 to 2017
Application of HIFU ablation in benign thyroid nodules
HIFU is a form of thermal ablation techniques that has shown to cause significant nodule shrinkage and alleviate nodule-related symptoms.
Ultrasound-guided HIFU device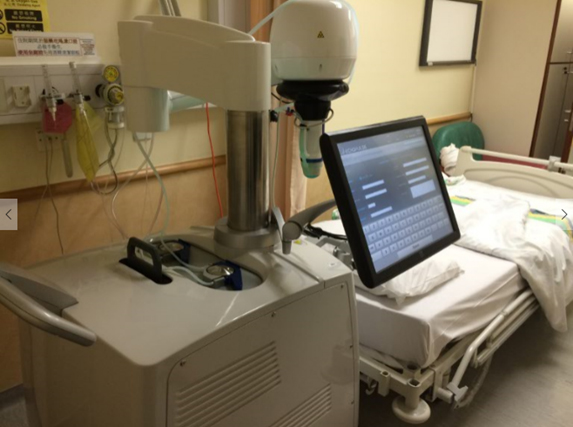 Ultrasound-guided HIFU device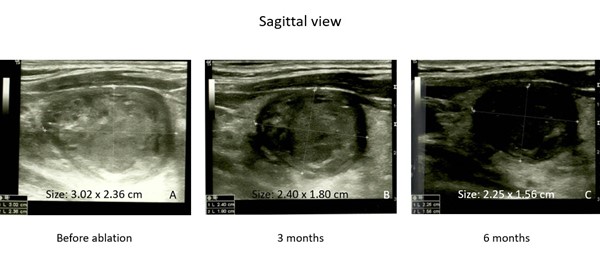 Serial nodule shrinkage after single-session of HIFU ablation
Transoral vestibular thyroidectomy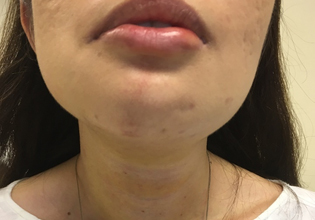 1 week after transoral verstibular thyroidectomy
Parathyroid diseases
Primary hyperparathyroidism (pHPT)
The number of cases of pHPT has been on the rise and surgical resection remains the only option for disease cure. In our experience, over 90% of patients can undergo the minimally invasive approach with biochemical cure confirmed with the intraoperative parathyroid hormone assay.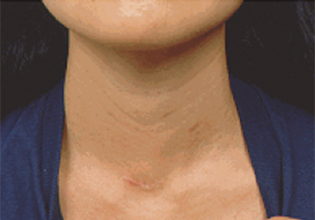 6 weeks after minimal invasive parathyroidectomy
Adrenal diseases
Laparoscopic or minimally approach adrenalectomy
This has been our standard approach in the majority of patients requiring surgery. With this approach, over 95% of patients can be discharged one day after surgery.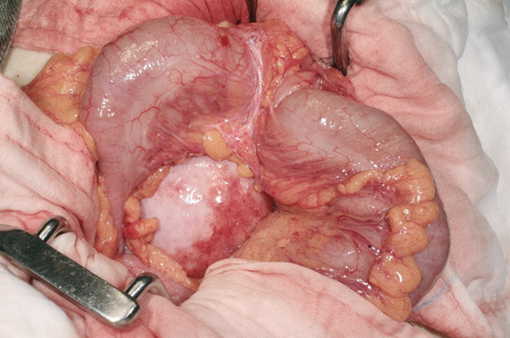 Large invasive adrenal tumor
Pancreatic endocrine diseases
Insulinoma is the most common pancreatic endocrine disease. Preoperative localization studies including CT scan, MRI, endoscopic ultrasound and octreotide scanning are available. Intra-arterial calcium injection with hepatic venous sampling is performed by experienced Radiologists from Department of Radiology with high success rate. For patients with negative localization, a combination of intraoperative localization by palpation and intraoperative ultrasound has achieved a high success rate in surgical treatment of patients with hyperinsulinemia. Minimal invasive surgery by laparoscopic enucleation and distal resection has been performed with success in selected patients.
Recent Publications (reverse chronological)
Lang BH, Woo YC, Wong IY, Chiu KW. Single-Session High-Intensity Focused Ultrasound Treatment for Persistent or Relapsed Graves Disease: Preliminary Experience in a Prospective Study. Radiology. 2017 Jul 20:162776. doi: 10.1148/radiol.2017162776.

Lang BH, Woo YC, Wong CKH. High-Intensity Focused Ultrasound for Treatment of Symptomatic Benign Thyroid Nodules: A Prospective Study. Radiology. 2017;284(3):897-906.

Lang BH, Woo YC, Chiu KW. Single-Session High-Intensity Focused Ultrasound Treatment in Large-Sized Benign Thyroid Nodules. Thyroid. 2017;27(5):714-721.

Lang BH, Wong CKH, Wong KP, Chu KK, Shek TWH. Effect of Thyroid Remnant Volume on the Risk of Hypothyroidism After Hemithyroidectomy: A Prospective Study. Ann Surg Oncol. 2017;24(6):1525-1532

Wong KP, Au KP, Lam S, Lang BH. Lessons Learned After 1000 Cases of Transcutaneous Laryngeal Ultrasound (TLUSG) with Laryngoscopic Validation: Is There a Role of TLUSG in Patients Indicated for Laryngoscopic Examination Before Thyroidectomy? Thyroid. 2017;27(1):88-94.

Lang BH, Shek TW, Chan AO, Lo CY, Wan KY. Significance of Size of Persistent/Recurrent Central Nodal Disease on Surgical Morbidity and Response to Therapy in Reoperative Neck Dissection for Papillary Thyroid Carcinoma. Thyroid. 2017;27(1):67-73.

Lang BH, Wong CK, Hung HT, Wong KP, Mak KL, Au KB. Indocyanine green fluorescence angiography for quantitative evaluation of in situ parathyroid gland perfusion and function after total thyroidectomy. Surgery. 2017 Jan;161(1):87-95.
To check out our latest publications, please follow the below link:
https://www.ncbi.nlm.nih.gov/pubmed/?term=lang+bh
Endocrine Surgery
Division Chief
Professor Brian Hung-Hin LANG梁熊顯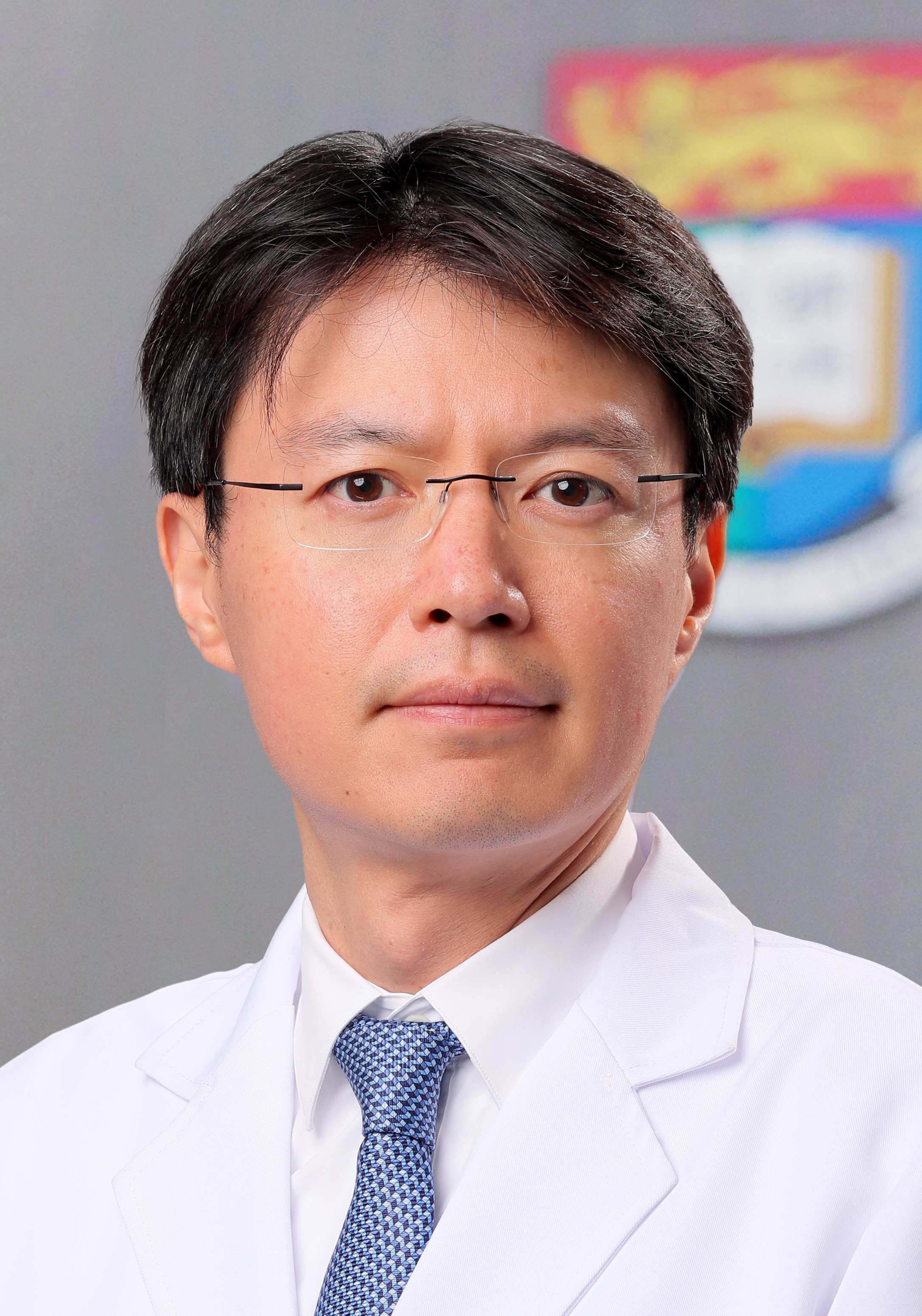 Li Shu Fan Medical Foundation Professor in Surgery
Clinical Professor
Assistant Dean (HKU Health System)
MBBS Syd (Hons), MRCSEd, MCSHK, FRCS, FCSHK, FHKAM, MS(HK), FACS
Staff List
Name
Title
Position
Staff types
Telephone
Email
Dr. Matrix Man-Him Fung


馮文謙

Division member
Resident
Hospital Authority staff
(852) 2255 4232
-