Contact Information
| | |
| --- | --- |
| Address: | 14th Floor, South Wing, Block K, Queen Mary Hospital |
| Telephone: | (852) 2255 4970 |
| Fax: | (852) 2255 4967 |
| Email: | vascular@hkucc.hku.hk |
Scope and service
The Francis Y.H. Tien Vascular Centre of the Department of Surgery was first established on 11 July 1997 at South Wing, 14/F, Block K of Queen Mary Hospital. The Centre is committed to providing the highest medical care in Vascular Surgery, promotion of patient education, as well as disease surveillance and screening, prevention and vascular medicine research.
With further generosity from Mr. and Mrs. James Tien in 2010, the Centre has now expanded to include the entire 14th Floor which encompasses the existing vascular laboratories, a modern 27-bed ward, a 5-bed High Dependency Unit, a specialist wound care clinic, a patient education area, and advanced computational workstations for integrated operation planning.
The clinical activities of the Centre are supported by dedicated vascular surgery clinics (three per week), with more than 6,000 attendances a year, including 600 new cases. Our Vascular Laboratory is staffed by three Registered Vascular Technologists and conducts 3,000 diagnostic examinations annually. Over 500 operations a year are performed, of which more than 300 are major arterial reconstructive procedures, including repair of aortic aneurysms and dissection (open repair / endovascular stent-graft repair), peripheral arterial revascularization (open bypass surgery / percutaneous balloon angioplasty and stenting) for atherosclerotic occlusive disease, carotid surgery (carotid endarterectomy / carotid artery angioplasty and stenting) for stroke prevention and haemodialysis access creation for end-staged renal failure patients who need haemodialysis.
In June, 2011 an endovascular operating suite has been set up in the operating theatres at 11/F., Block K of Queen Mary Hospital, in which complex and advanced arterial procedures can be performed in a minimally invasive manner.
With the expansion of the Centre encompassing the vascular diagnostic laboratory and the vascular surgery ward on the same floor, together with the setting up of the endovascular operating theatre in the same building, a one-stop service for screening, diagnosis, treatment, follow-up and surveillance of vascular diseases can be provided. The service is supported by a full-time, dedicated team of vascular surgical specialists.
Overview of Vascular Centre Service
Provides noninvasive examinations for quick and precise diagnosis
Evaluate the presence, site and severity of vascular diseases
Provides information that complements clinic impression and invasive diagnostic procedures
Provides patients with a multi-disciplinary approaching in management of vascular diseases, with medical control of risk factors, traditional open surgery, minimally invasive endovascular procedures, specialist nursing care and input from paramedical professionals
Continual screening of patients who are at risk of developing vascular diseases
Education and training of health care personnel, doctors, medical students and the public
Scientific research in vascular medicine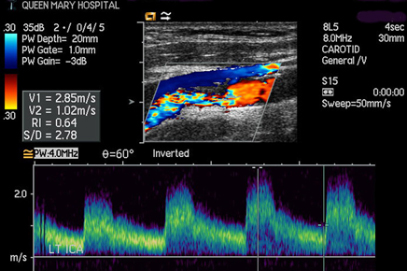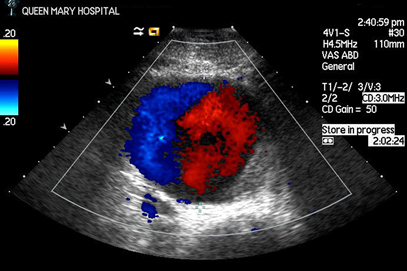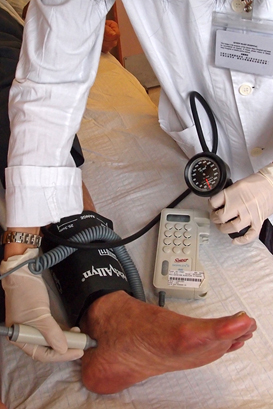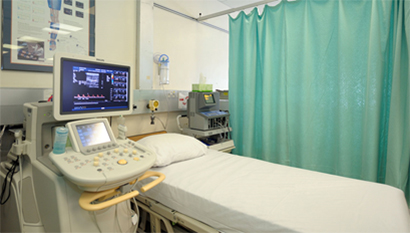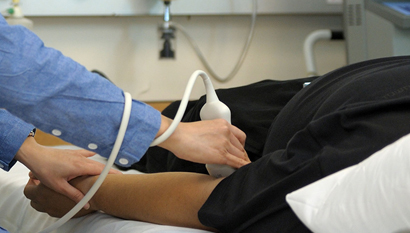 Service provided by Francis Y H Tien Vascular Centre
Management of Abdominal Aortic Aneurysm
Provides screening of asymptomatic patient by Duplex ultrasound
Operative management of abdominal aortic aneurysm, traditional open repair or endovascular aortic repair (EVAR) which includes complex hybrid procedures and also custom-made fenestrated, bracnched grafts and iliac-branch devices.
Vascular specialist clinic follow-up and surveillance post-operative patients with imaging: Duplex ultrasound, computer tomography and angiogram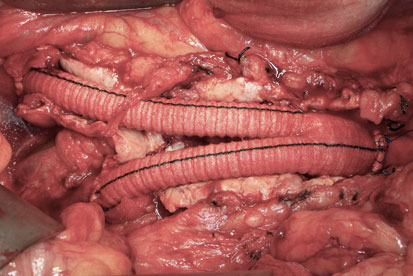 Number of hepatic resections performed over the past 28 years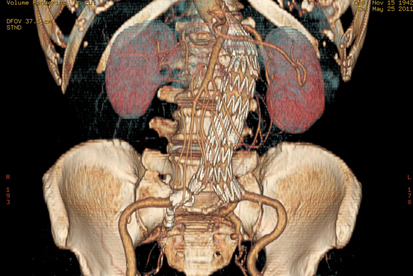 A 3D CT reconstruction of the abdomen after an EVAR operation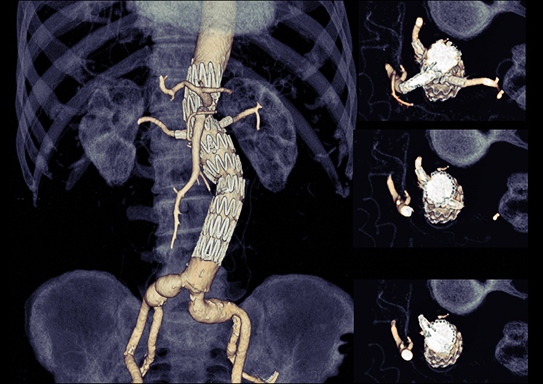 Custom-made fenestrated EVAR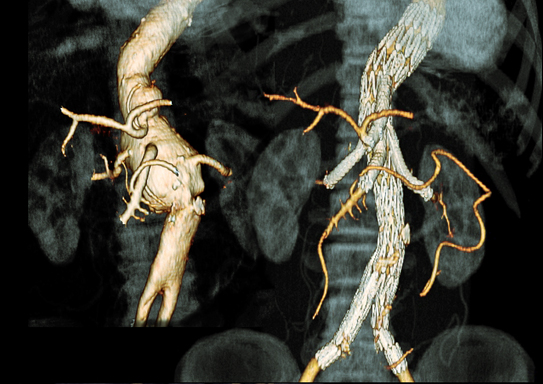 Custom-made branched EVAR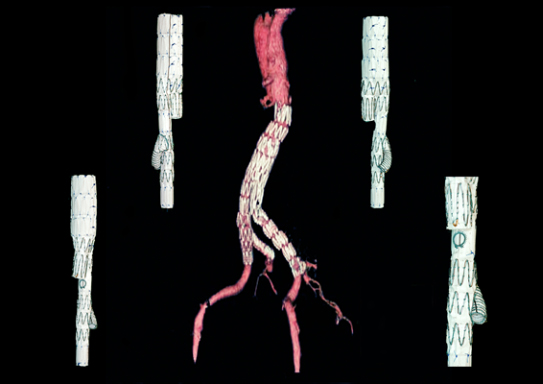 Iliac branched device
Management of thoracic aortic dissection and thoracic aortic aneurysm
Surveillance and early detection of complications of aortic dissection like aneurysm degeneration
Provide treatment of aortic dissection with or without aneurysm formation by thoracic endovascular aortic repair (TEVAR) which includes complex hybrid procedures and state-of-the art complex custom-made branched and scalloped aortic arch device
Vascular specialist clinic follow-up with regular computer tomography scanning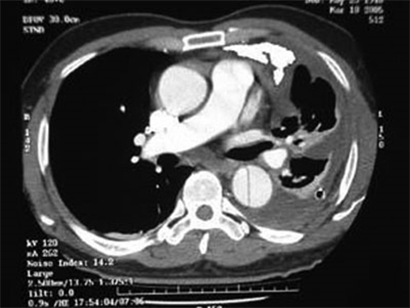 CT Scan of thoracic aortic dissection. A flap with fenestration divided aorta into true and false lumen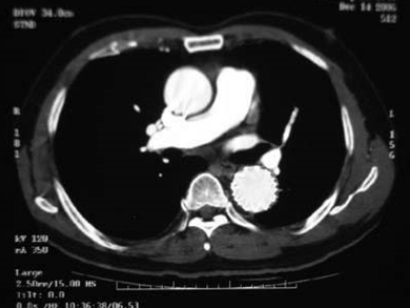 Complete resolution of aortic dissection with TEVAR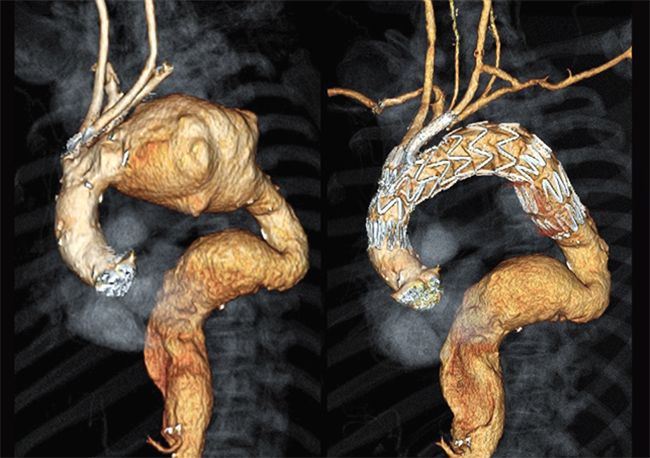 Thoracic aortic arch-branched TEVAR with left carotid to left subclavian bypass for treatment of proximal aortic arch aneurysm
Management of carotid stenosis
Provides screening and follow up of asymptomatic or symptomatic patients with carotid stenosis by Duplex ultrasound, computer tomographic angiography, magnetic resonance angiography or conventional contrast angiography
Provides treatment of significant carotid stenosis for stroke prevention by carotid endarterectomy or carotid balloon angioplasty and stenting
Vascular specialist clinic follow-up with regular Duplex ultrasound scanning in postoperative patients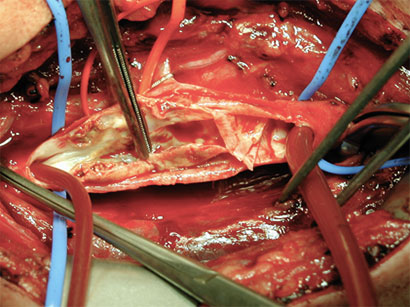 Close-up view of the carotid artery during endarterectomy. The internal carotid artery is opened up and the plaque is being removed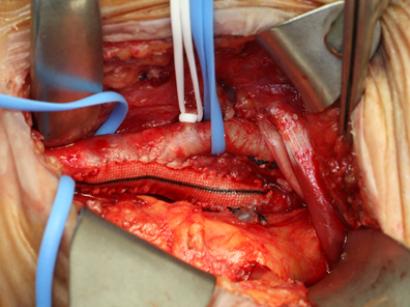 A patch angioplasty extending from common to internal carotid artery to prevent re-stenosis after carotid endarterectomy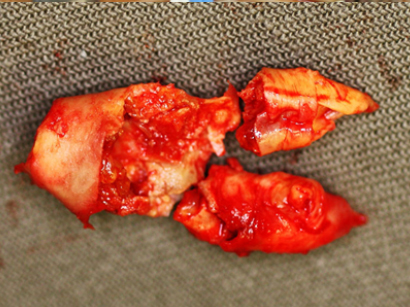 Close up view of the atherosclerotic plaque removed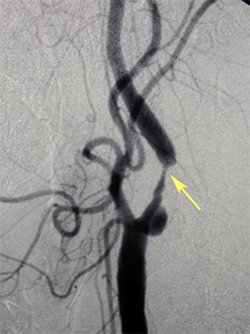 Angiogram of the carotid artery showing critical stenosis in the internal carotid artery (yellow arrow)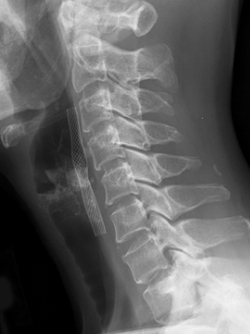 Lateral neck X-ray showing a carotid stent in place
Management of atherosclerotic occlusive disease of the lower limbs
Evaluation of site and severity of occlusive disease by non-invasive testing like ankle-brachial index measurement, exercise testing, Duplex ultrasound, computer tomographic angiography and magnetic resonance angiography
Provides revascularization procedures for limb salvage like diagnostic angiography and percutaneous balloon angioplasty and stenting and traditional open bypass surgery
Provides specialist nurse leaded wound care service
Vascular specialist clinic follow up with Duplex ultrasound surveillance for early detection of recurrence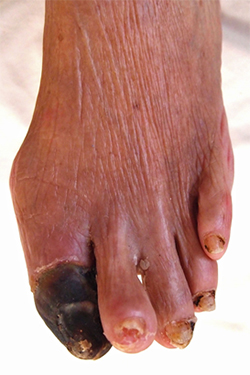 Left big toe gangrene in a patient with diabetes mellitus due to infra-popliteal occlusive disease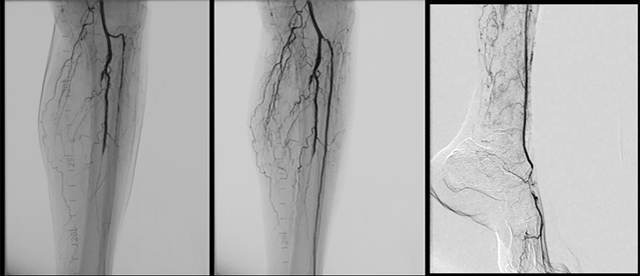 Angiogram of infra-popliteal and anterior tibial arteries, which supply the foot. The anterior tibial artery is severely narrowed. Balloon Angioplasty is performed which restored its patency and hence the blood supply to the foot
Management of chronic venous disease
Duplex ultrasound diagnosis of venous incompetence and mapping of incompetence perforators
Venous insufficiency evaluation by air-plethysmography
Provides specialist nurse leaded wound care service for patient with venous ulceration
Provides treatment of varicose veins by superficial vein surgery like sapheno-femoral flush ligation, saphenopopliteal ligation with avulsion of varicosities, injection sclerotherapy and endovenous therapy like radiofrequency ablation, laser therapy, glue injection and machano-chemical ablation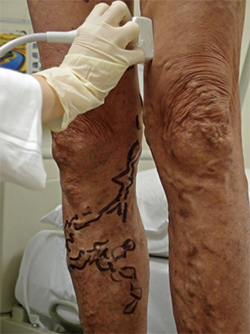 Preoperative venous Duplex ultrasound for mapping of incompetence long saphenous vein and perforators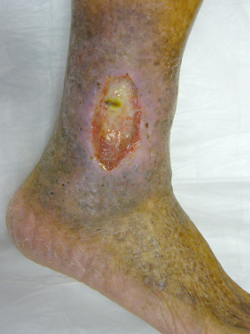 Management of venous ulcer requires collaboration between vascular surgeons, wound care specialists and microbiologists
Management of end-staged renal failure patients who need haemodialysis
Duplex ultrasound for preoperative assessment of patient for access creation, access surveillance for maturation, and early detection of complications
Creation of haemodialysis vascular access, arteriovenous fistula and graft
Management of access-related complications like stenosis, thrombosis, infection, central vein stenosis, aneurysms and steal syndrome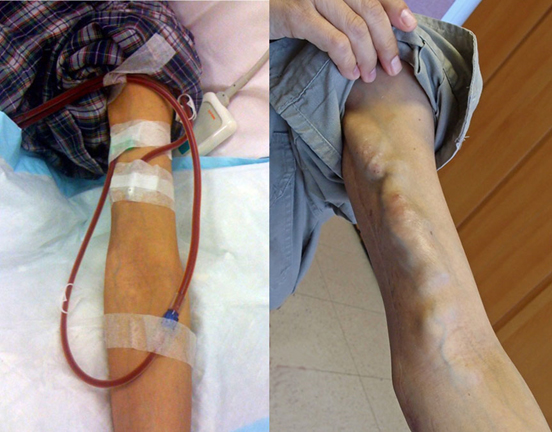 Elbow arteriovenous fistula (AVF) - An anteriorly transposed basilic vein form the medial arm is anastomosed to brachial artery at elbow forming a brachio-basilic AVF. The AVF is needled for haemodialysis.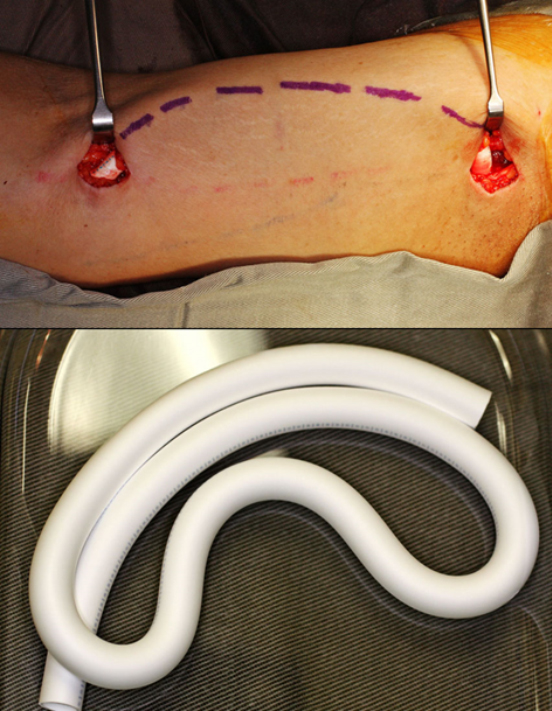 Arteriovenous graft (AVG) - A synthetic Gortex graft is used for creation of a brachial artery to brachial vein AVG
Training
The Francis Y.H. Tien Vascular Centre of the Department of Surgery is the only independent full time vascular surgery specialty unit in Hong Kong which provides a 2-year subspecialty post-fellowship training in vascular and endovascular surgery for general surgical specialists recognized by The College of Surgeon of Hong Kong. Apart from traditional mentoring during clinical practice and surgery, we also have the Mentice Vascular simulator training system for basic and higher surgical trainees to sharpen their endovascular skills off-table.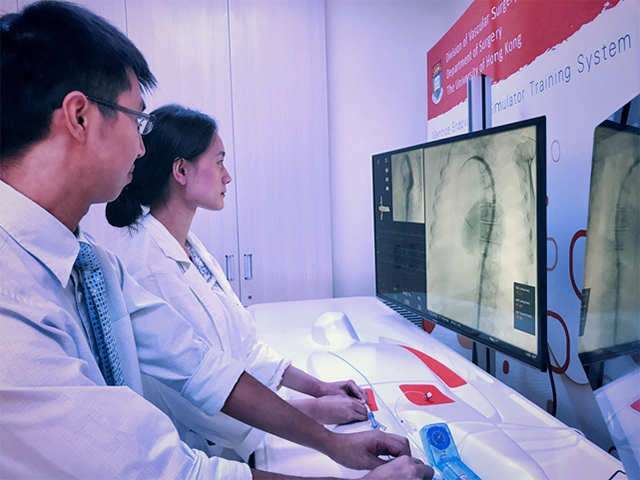 Trainees are having simulation training in TEVAR in Mentice Vascular simulator training system
Vascular Surgery
Division Chief
Professor Stephen Wing-Keung CHENG鄭永強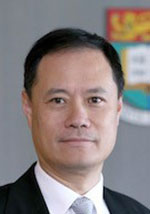 Serena HC Yang Professor of Vascular Surgery
MBBS(HK), MS(HK), FRCSEd, FRCS(Eng), FACS, FCSHK, FHKAM
Staff List
Name
Title
Position
Staff types
Telephone
Email

Dr. Albert Chi-Wai TING




丁志偉

Division member
Consultant / Honorary Clinical Associate Professor
Hospital Authority staff
(852) 2255 4970
---
Dr. Yiu-Che CHAN


陳燿志

Division member
Clinical Associate Professor
Academic staff
(852) 2255 4965
ycchan88@hku.hk

Dr. Alfred Chiu-Cheuk WONG




黃昭灼

Division member
Consultant / Honorary Clinical Associate Professor
Hospital Authority staff
(852) 2255 4970
---

Dr. Skyi Yin-Chun PANG




彭賢俊

Division member
Consultant
Hospital Authority staff
(852) 2255 4970
---

Dr. Jacky Siu-Chung TAM




譚兆宗

Division member
Associate Consultant
Hospital Authority staff
(852) 2255 4970
---

Dr. Carolette GROENEWALD



Division member
Associate Consultant
Hospital Authority staff
(852) 2255 4970
---