Cardiothoracic Surgery
Contact Information
| | |
| --- | --- |
| Contact phone: | (852) 2255 5877 |
| Fax: | (852) 2553 3436 |
Introduction & History
In the 1950s to 1960's, thoracic surgery in Hong Kong was mostly confined to thoracoplasty for extensive pulmonary tuberculosis and lung resections. When Prof. GB Ong was appointed as the Chair of Surgery at the University of Hong Kong in 1964, in response to the increasing need for open heart surgery locally, the Departments of Medicine and Surgery at the University of Hong Kong together with the Hong Kong Government and the Hong Kong Anti-Tuberculosis Association (HKATA) initiated the introduction of open-heart surgery to Hong Kong.
In 1964, the Department of Surgery took over the Thoracic Surgical Units at The Grantham Hospital (GH) in 1966.
11th December, 1964: The first open-heart operation in Hong Kong was performed by Professor GB Ong at Queen Mary Hospital (QMH) on a female patient with patent ductus arteriosis, pulmonary valve stenosis and atrial septal defect (ASD) under hypothermic circulatory arrest.
1966-69: Drs KH Kwong and John Leung underwent open-heart surgery training overseas. Practise of cardiopulmonary bypass in animals started at GH in 1967/68.
30th July, 1968: The first open heart surgery performed in The Grantham Hospital. Dr. KH Kwong assisted Dr. Lester Bryant, an American cardiac surgeon from Lexington, Kentucky, to close an ASD in a 17-year-old girl with cardiopulmonary bypass.
16th September, 1975: The first neonatal survivor in Hong Kong after open heart surgery: a 2-month-old girl who underwent VSD & ASD closure.
1978: Cardiac catherization laboratory was established at GH.
1992: The first heart transplantation in Hong Kong. The recipient remains in good health till this day.
1995: The first single lung transplantation and the first heart-lung transplantation were performed.
1996: Off pump coronary artery bypass grafting and minimally invasive direct coronary artery bypass (MIDCAB) introduced.
1997: The first double-lung transplantation was performed.
2000: Extracoporeal membrane oxygenation support for paediatric patients started.
2004 The first successful implantation of the Left Ventricular Assist Device (LVAD) in Hong Kong using the Berlin Heart Device in a 7-year-old boy with acute fulminant myocarditis.
June 2008: The Cardiothoracic Surgical Unit and Paediatric Cardiac Unit at Grantham Hospital (GH) was relocated to Queen Mary Hospital, providing state-of the-art multidisciplinary care to patients in three OT suites, 16 cardiothoracic ICU beds and 60+ step-down beds.
2010: Successful implantation of the first fully implantable LVAD (Heartmate II) in a 30 year old adult with end-stage dilated cardiomyopathy, kick starting the LVAD program in Queen Mary Hospital.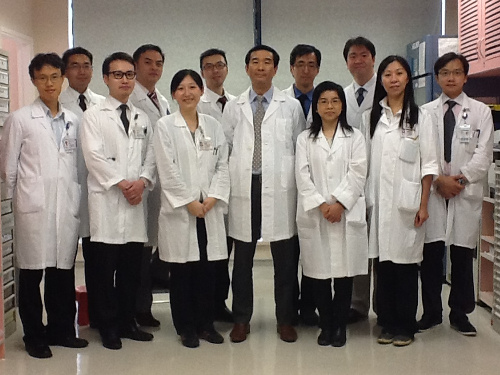 Department Photo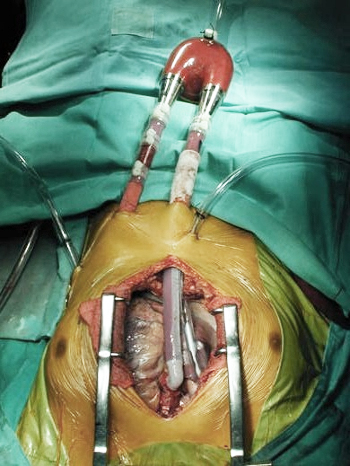 LVAD
Activites and Services
The Division receives referrals of both elective and emergency cases from all public and private hospitals in Hong Kong as well as from Macau and nearby regions. Regular conferences on cardiac and thoracic surgery, interhospital CME meeting, fellowships etc provide a platform for exchange of valuable ideas, knowledge and experiences for doctors local and abroad. Cross-disciplinary support is also provided for other clinical units in Queen Mary Hospital.
The Division of Cardiothoracic Surgery is the largest tertiary referral centre for patients with heart and lung diseases in Hong Kong. We remain the sole referral centre in Hong Kong for congenital heart disease, intrathoracic organ transplantation, and mechanical heart support. The service was originally established in Grantham Hospital and was relocated to QMH on 25 July, 2008. The Division provides adult cardiac surgery, paediatric cardiac surgery, intrathoracic organ transplantation and thoracic surgery. The Division performs over 650 open heart operations, 150 closed heart operations and 400 thoracic procedures annually. Congenital heart surgery accounts for about 40% of all the cardiac operations.
As an integral Division of the Department of Surgery of the University of Hong Kong, the Division maintains a strong commitment to training the next generation of surgeons in the territory. The Division provides regular lectures for medical students, clinical attachments at Queen Mary Hospital.
Strengths and Developments
Congenital heart surgery
The Division is the only designated paediatric cardiac surgical centre in Hong Kong. Complex congenital heart procedures such as arterial switch operation, Ross procedure, Rastelli procedure and Fontan operation are routinely performed. We have achieved an overall less than 3% mortality rate in paediatric open heart surgery in the recent years. The department is involved in research and adoption of extracellular matrix (Cormatrix ECM) for congenital heart defect and valve repair, ECMO and LVAD support for paediatric patients, and adult congenital heart surgeries.
The department has introduced clincal data collection on congenital heart surgery since 2012 under the European Association of Cardiothoracic Surgery (EACTS) congenital database for monitoring clinical outcome.
Heart and Lung Transplantation
The Division is the sole provider of intra-thoracic organ transplantation in Hong Kong since 1992. More than 100 heart transplantations have been performed, with a 10-year survival rate for heart transplantation exceeding 80% and achieving a New York Heart Association Class I to II functional status postoperatively. In 2004, we performed the first successful implantation of the Left Ventricular Assist Device (LVAD) in Hong Kong using the Berlin Heart Device in a 7-year-old boy with acute fulminant myocarditis. Totally implantable LVAD (Heartmate II) was introduced in 2010 in our hospital and since 9 patients has benefited. We have a dedicated team of surgeons, cardiologists, nurses and allied health professionals providing individualized service to these patients.
Adult Heart Surgery
Queen Mary Hospital provides the largest number of open heart surgery annually in Hong Kong.
The Division has adopted minimal and less invasive cardiac surgery since 1996, starting with OPCABG and MIDCABG. In recent years, with the adoption of new instrumentations, training and innovations, minimal and less invasive open heart surgery has became an integral part of our surgical repertoire. We offer minithoracotomy and hemisternotomy as surgical approaches for single valve replacement and repair, closure of atrial septal defect and mitral valve repair.
We routinely offer surgical radiofrequency ablation for atrial fibrillation in patients undergoing open heart surgeries.
We are early adopters in Asia of the endoscopic vein harvesting (EVH) and endoscopic radial artery harvesting (ERAH) technique for coronary artery bypass grafting. These techniques are now routinely used and continues to decrease morbidity and enhance quality-of-life in our CABG patients.
For quality assurance and monitoring of clinical outcome, the division has collaborated with other centres in Hong Kong in prospective clinical data collection using the Dendrite Clincal Database system. In 2013 we have published our first biannual report on outcome of adult heart surgery in Queen Mary Hiospital.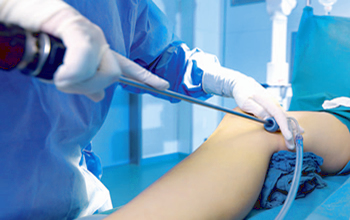 Endoscopic vein harvest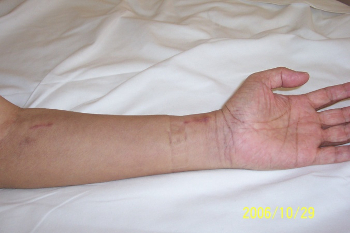 Wound of endoscopic radial artery harvest
Minimal invasive cardiac surgery (MICS)
The demand of minimally invasive surgery is climbing in recent years.
With the advance of technology, Queen Mary Hospital started minimally invasive approach for various kind of surgery since 2006. Some of them became routine approach nowadays.
Minimal invasive cardiac surgery means surgery without a full median sternotomy as in traditional approach. Examples are mini-thoracotomy, hemi-sternotomy and para-sternal thoracotomy.
Operations can be performed via minimally invasive approach:

Mitral valve repair or replacement
Aortic valve replacement
Tricuspid valve repair or replacement
Maze procedure (atrial ablation for atrial fibrillation)
Congential disease such as atrial septal defect (ASD), ventricular septal defect (VSD)
Myxoma excision
Leg vein or arm artery harvest for coronary artery bypass graft
Combination of above surgery

Benefits of MICS

Early resume of normal activities

Average 5weeks earlier resume work compared to sternotomy

Less wound infection

Virtually no serious infective wound complications. And minor infection is much less common

Less pain and shorter hospital stay

Stable bony structure means less pain during mobilization. In general patient able to go home earlier

Better cosmetics
Less transfusion and bleeding
Patients may NOT suitable for MICS

Advance age
Poor lung function
Poor heart function
Peripheral vascular disease
Extreme body size
Previous chest or heart surgery
Require coronary artery bypass graft

The technology and experience are growing in Queen Mary Hospital and worldwide. We expect more patients will benefits from minimal invasive approach in future.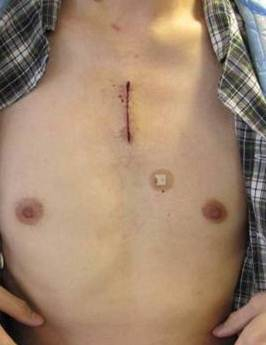 Upper hemisternotomy wound for ventricular septal defect repair. 6 days after operation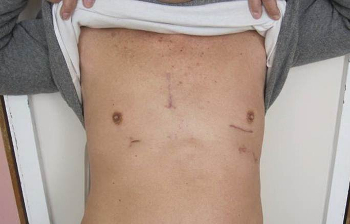 Para-sternal wound for mitral valve repair. 1 month post-op
Right mini-thoracotomy wound for mitral valve and maze operation. 1 month after operation.
Cardiac Surgery Biennial Reports
Cardiac Surgery Biennial Report 2016-2017
Cardiac Surgery Biennial Report 2018-2019
Collaborations
The Division jointly with the Anaesthetic Department ( before we were relocated in July 2008 ) introduced 3 scoring systems namely Euroscore, Parsonnet and Malaysian, to risk stratify our patients. After collecting data of nearly 3000 patients, we have found that the Euroscore system is more suitable for our local patients. We have through our current database developed a local risk-stratification scoring system. We anticipate that with further data collection and analysis, our own scoring system can be refined.
In Thoracic Surgery, there has been a very rapid expansion in both the scope and range of surgical research by the Division since 2006. This strong growth in academic activity was complemented by the constructive development of many collaborative research efforts with other departments of the University of Hong Kong. These include studies in Thoracic Surgery in partnership with the Departments of Surgery (tissue banking, proteonomic research), Pathology (molecular genetics), Medicine (stem cell research, inflammatory markers), Pharmacology (pulmonary vascular physiology), and Pharmacy (neuropathic pain).
Staff List
Name
Title
Position
Staff types
Telephone
Email

Dr. Cally Ka-Lai HO




何嘉麗

Division member
Chief of Service/ Consultant
Hospital Authority staff
(852) 2255 5877
---

Dr. Timmy Wing-Kuk AU




區永谷

Division Chief
Consultant / Honorary Clinical Associate Professor
Hospital Authority staff
(852) 2255 5877
---

Dr. Ko-Yung SIT




薛高勇

Division member
Consultant / Honorary Clinical Associate Professor
Hospital Authority staff
(852) 2255 5877
---

Dr. Daniel Tai-Leung CHAN




陳泰良

Division member
Consultant
Hospital Authority staff
(852) 2255 5877
---

Dr. Michael Kuan-Yew HSIN




辛光耀

Division member
Associate Consultant
Hospital Authority staff
(852) 2255 5877
---

Dr. Nicholson YAM




任力恒

Division member
Associate Consultant
Hospital Authority staff
(852) 2255 5877
---

Dr. Oswald Joseph On Jing LEE




李岸政

Division member
Associate Consultant
Hospital Authority staff
(852) 2255 5877
---

Dr. Tsz-Him LING




凌子謙

Division member
Associate Consultant
Hospital Authority staff
(852) 2255 5877
---