Paediatric Surgery
Contact Information
| | |
| --- | --- |
| Telephone: | (852) 2255 3549 |
| Fax: | (852) 2817 3155 |
Scope and Service
The Division of Paediatric Surgery is the oldest and most established paediatric surgical centre in Hong Kong. Over the years, the Division has grown from strength to strength and is now well recognised as an international centre of high repute. Paediatric surgery is a broad specialty which is defined by age rather than by organ systems. Our specialist surgeons operate on congenital anomalies of the newborn and major conditions in infants and children including neoplasms, hepatobiliary diseases, gastrointestinal conditions, thoracic anomalies, major trauma, and paediatric urology
In addition to providing general paediatric surgical care to Hong Kong West, the Division is the tertiary centre of specialist paediatric surgery for a network of hospitals covering Hong Kong Island and Kowloon including Pamela Youde Nethersole Eastern Hospital, Kwong Wah Hospital and Duchess of Kent Children's Hospital. It acts as a supra-tertiary referral centre for a number of rare complex conditions and procedures including liver transplantation, paediatric endosurgery, paediatric urology for hospitals outside the network. Patients are also regularly referred to the Division from the private sector, self-referrals and from outside Hong Kong.
Areas of Clinical Excellence
In addition to a comprehensive paediatric surgical service, the Division has surgeons with special expertise and reputation in the following areas:
Minimal invasive surgery including laparoscopy, thoracoscopy and Da Vinci Robotic system
Hepatobiliary diseases such as biliary atresia, choledochal cyst and liver neoplasms
Liver transplantation – we are the only paediatric liver transplantation centre in Hong Kong and is one of the best worldwide
Gastrointestinal conditions such as Hirschsprung's disease and anorectal malformations. It is a pioneering centre for the laparoscopic procedure
Short gut syndrome – comprehensive management with multi-disciplinary approach
Thoracic diseases such as congenital pulmonary airway malformation (we have one of the largest series of thoracoscopic lobectomies in children in the world) and pectus excavatum
Paediatric urology
Paediatric oncology including neuroblastoma, hepatoblastoma and Wilm's tumour
Obesity – we have newly established a multi-disciplinary team to tackle this increasing problem
Facilities
In-patients
Purpose-built paediatric surgical wards in K15.
Operating theatres
Modern and well-equipped theatres for minimal invasive surgery.
Out-patients
Public - New referral and follow-up and specialist clinics: every Wednesday pm and Friday am
Private - 2/F, Professorial Block, QMH (by appointment, Tel: 2255 4616)
Special investigations
Paediatric gastrointestinal physiology centre, including 24-hour pH and impedence study oesophageal manometry; ano-rectal manometry with biofeedback
Video-urodynamics and urotherapy
Networking arrangements
Antenatal Clinic (with obstetricians) at Tsan Yuk Hospital and Queen Mary Hospital
Combined clinic and ward rounds at Kwong Wah Hospital and Pamela Youde Nethersole Eastern Hospital
Pressure garment clinic at Duchess of Kent Children's Hospital
Feeding Clinic and ward round at Duchess of Kent Children's Hospital and Caritas Medical Centre
Combined clinic (with paediatricians and radiologists) for vascular malformation at Queen Mary Hospital
Clinical Attachment
The Division can offer attachments for surgeons who are interested. For further information please contact Dr. Kenneth Kak-Yuen Wong via email: kkywong@hku.hk.
Beyond Hong Kong
We have been active in the development paediatric surgeons in China since 2007 through the provision of laparoscopic and scientific writing workshops in various cities. We have trained over 2,500 surgeons so far.
Patient Support Group
In 2014, we established the first ever Paediatric Surgery Patient Support Group in Hong Kong and hope to create a warm community for our patients and their families. By organising various events and gatherings, we aim to encourage children, families and hospital staff to get together for learning, information sharing and emotional support, hoping to help families cope with the patient's medical condition, as well as promote better mental and physical wellbeing.

For more information about joining our group and to get updates on our most recent events, please contact the Dr. Patrick Ho-Yu Chung at chungphy@hku.hk.
Division Chief
Professor Kenneth Kak-Yuen WONG黃格元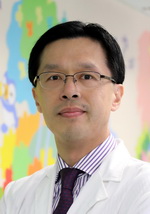 Clinical Professor
MBChB(Edin), PhD(Lond), FRCSEd(Paed), FCSHK, FHKAM(Surgery)
Staff List
Name
Title
Position
Staff types
Telephone
Email

Professor Paul Kwong-Hang TAM




譚廣亨

Division member
Emeritus Professor Honorary Clinical Professor
Honorary staff
(852) 2255 4850
paultam@hku.hk

Dr. Patrick Ho-Yu CHUNG




鍾浩宇

Division member
Clinical Associate Professor
Academic staff
---
chungphy@hku.hk

Dr. Hau-Yee CHAN




陳巧兒

Division member
Consultant / Honorary Clinical Associate Professor
Hospital Authority staff
---
---

Dr. Chin-Tung LAU




劉展彤

Division member
Associate Consultant / Honorary Clinical Assistant Professor
Hospital Authority staff
---
---
Dr. Ling LEUNG
梁凌
Division member
Associate Consultant / Honorary Clinical Tutor
Hospital Authority staff
---
---
Dr. Fanny YEUNG
楊子穎
Division member
Associate Consultant / Honorary Clinical Tutor
Hospital Authority staff
---
---