Urology
Contact Information
| | |
| --- | --- |
| Telephone: | (852) 2255 4310 |
| Fax: | (852) 2872 8425 |
Scope and Service
The Division of Urology is responsible for the surgical management of patients with benign and malignant diseases of the urogenital system. The Division currently has 7 specialist urologists and 1 higher surgical trainee. Our scope and service include general urology, urological oncology, neuro-urology and voiding dysfunction, andrology, male infertility, stone disease and renal transplantation. Highlights of our service are given below.
Minimally Invasive And Robotic-assisted Laparoscopic Urologic Surgery
Commonly performed minimally invasive procedures include:
Organ
Diseases
Procedures
Kidney
Renal cancer
Radical nephrectomy
Small renal mass
Partial nephrectomy
Ureteropelvic junction obstruction
Pyeloplasty
Ureter
Ureteral stricture
Ureteral reimplantation
Large ureteral stone
Ureterolithotomy
Bladder
Bladder cancer
Cystectomy
Bladder diverticulum
Diverticulectomy
Prostate
Prostate cancer
Radical prostatectomy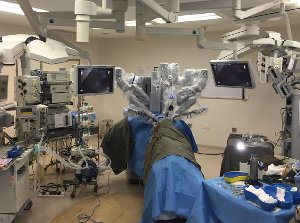 Picture showing set up of robotic radical prostatectomy
Infertility
Our division, together with the Division of Reproductive Medicine of the Department of Obstetrics and Gynaecology, provides assisted reproduction service. An average of 500 assisted reproduction treatment cycles are initiated every year, of which about 60 cycles will necessitate surgical sperm retrieval. Reconstruction with microsurgical technique is performed for selected patients with obstructive causes of male infertility.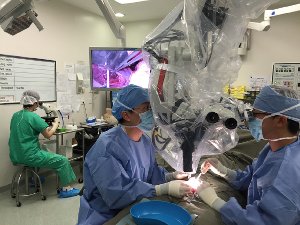 Picture showing microscopic sperm retrieval
Urologic Oncology
The Division of Urology provides comprehensive surgical management of all cancers of the urinary tract. Multi-disciplinary meetings with the Department of Radiotherapy and Oncology and Department of Radiology are held regularly for joint and holistic patient care. Management of complex cases of malignancy has been successful thanks not only to the experienced surgical team, but also close collaboration with oncologists, radiologists, intensive care unit as well as other related specialties.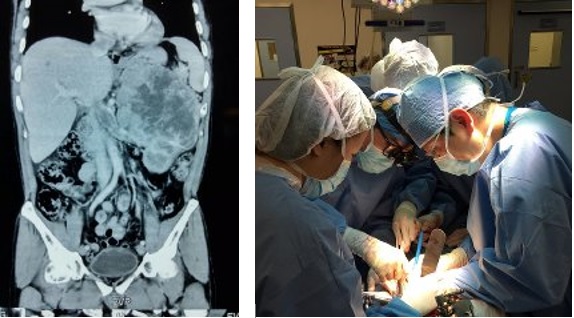 Picture showing microscopic sperm retrieval
Stone disease
The Jockey Club Lithotripsy Centre was established in June 1991 where patients with renal and ureteric stones are treated with extracorporeal shock wave lithotripsy. It also provides ESWL service to patients from other Hospital Authority hospitals. There are more than seven hundred ESWL sessions per year.
Endourological treatment of urinary tract calculi is readily available in our centre. This include ureteroscopic lithotripsy (URSL), retrograde intrarenal surgery (RIRS) and percutaneous nephrolithotripsy (PCNL).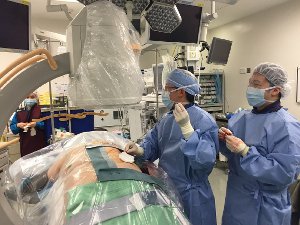 Picture taken during PCNL
Renal Transplantation / Dialysis Service
The first renal unit in Hong Kong was established in late 60s in QMH under the care of Department of Surgery and first renal transplant operation in Hong Kong was performed in QMH in 1970. Currently, QMH is a tertiary renal transplantation centre, providing both cadaveric and living-related renal transplant service.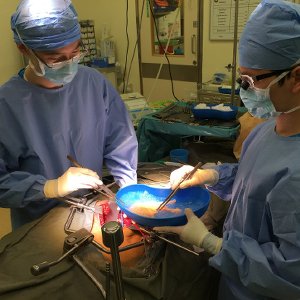 Picture taken during cadaveric renal transplantation
Training
Both Queen Mary Hospital and Tung Wah Hospital are accredited training centres for advanced urology training by the Royal College of Surgeons of Edinburgh and the College of Surgeons of Hong Kong for training of urology trainees. The Division of Urology offers opportunities for oversea fellows and students to attach and learn in the team. Worldwide renowned Professors are invited to give distinguished lectures from time to time. Animal dissection workshops are held regularly for training of urology fellows from surrounding countries. Recently the Division cooperates with European School of Urology and Hong Kong Urological Association to organize the Masterclass on Minimally Invasive Urological Surgery.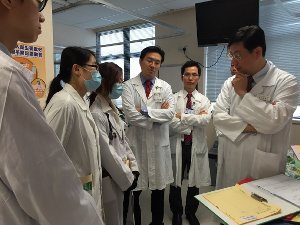 Picture taken during division grand round
Recent Publications
Is prostate specific antigen (PSA) density necessary in selecting prostate cancer patients for active surveillance and what should be the cutoff in the Asian population?, Prostate International. (in press)

Anterior perineal hernia after anterior exenteration. Asian J Urol. 2017 Oct;4(4):253-255. Epub 14 Mar 2017

Pathological outcome for Chinese patients with low-risk prostate cancer eligible for active surveillance and undergoing radical prostatectomy: comparison of six different active surveillance protocols.
Hong Kong Med J 2017;23:Epub 13 Oct 2017.

Multiparametric magnetic resonance imaging/transrectal ultrasound fusion prostate biopsy with semi‑robotic navigation in the Chinese population: initial results
Asian Journal of Andrology, 2017. Epub on 2017-03-21

Initial results of selective renal parenchymal clamping with an adjustable kidney clamp in nephron-sparing surgery: an easy way to minimise renal ischaemia.
Hong Kong Medical Journal. 2016. Epub on 2016-07-29.

The internal and external responsiveness of Functional Assessment of Cancer Therapy-Prostate (FACT-P) and Short Form-12 health survery version 2 (SF-12 v2) in patients with prostate cancer.
Quality of Life Research, Epub on 2016-02-23.

Partial nephrectomy for T1 renal cancer can achieve an equivalent oncological outcome to radical nephrectomy with better renal preservation: the way to go.
Hong Kong Medical Journal. February 2016, 22(1):39-45.

Impact of skeletal-related events on survival in patients with metastatic prostate cancer prescribed androgen deprivation therapy.
Hong Kong Medical Journal. Epub on 2015-12-04.

Health-related quality of life of Chinese patients with prostate cancer in comparison to general population and other cancer populations.
Support Care Cancer. Epub on 2015-10-09.

Psychometric properties of functional assessment of cancer therapy-prostate (FACT-P) in Chinese patients with prostate cancer.
Quality of Life Research. Apr 2015, 24: 2397.

Disease spectrum and treatment patterns in a local male infertility clinic.
Hong Kong Medical Journal. 2015; 21(1): 5-9.

Prevalence and Predictive Factors of Harboring Fluoroquinolone-resistant and Extended-spectrum β-Lactamase-producing Rectal Flora in Hong Kong Chinese Men Undergoing Transrectal Ultrasound-guided Prostate Biopsy.
Urology. Jan 2015;85(1):15-22.
Division Chief
Dr. James Hok-Leung TSU徐學良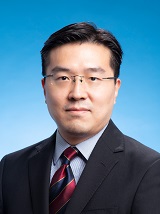 Consultant
Honorary Clinical Associate Professor
MBBS, FRCS(Urol), FCSHK, FHKAM(Surgery)
Staff List
Name
Title
Position
Staff types
Telephone
Email

Dr. Ada Tsui-Lin NG




吳翠蓮

Division member
Consultant / Honorary Clinical Associate Professor
Hospital Authority staff
(852) 2255 4310
---

Dr. Brian Sze-Ho HO




何思灝

Division member
Consultant / Honorary Clinical Assistant Professor
Hospital Authority staff
(852) 2255 4310
---

Dr. Terence Chun-Ting LAI




賴俊廷

Division member
Associate Consultant
Hospital Authority staff
(852) 2255 4310
---

Dr. Chiu-Fung TSANG




曾昭鋒

Division member
Associate Consultant / Honorary Clinical Assistant Professor
Hospital Authority staff
(852) 2255 4310
---

Dr. Hoi-Lung WONG




黃海龍

Division member
Resident Specialist
Hospital Authority staff
(852) 2255 4310
---
Dr. NA Rong


那溶

Division member
Clinical Assistant Professor
Academic staff
(852) 2255 4310
yungna@hku.hk