Contact Information
| | |
| --- | --- |
| Telephone: | (852) 2255 4774 |
| Fax: | (852) 2819 4221 |
Scope and Service
The Division of Esophageal and Upper Gastrointestinal (EGI) Surgery is dedicated to achieve the highest standard of clinical care to patients suffering from disorders of the esophagus, stomach, and small bowel.
Cancers of the Upper Gastrointestinal Tract
The Division is internationally renowned for its management of patients suffering from esophageal and gastric cancer. A multidisciplinary team determines optimal treatment for each patient. For esophageal cancer, minimally invasive esophagectomy (MIE) is the preferred operative approach; currently performed in over 80% of our patients. We have achieved one of the lowest morbidity and morality rates in the world. Recent technological adjuncts include extended lymphadenectomy under intraoperative recurrent laryngeal nerve monitoring, and Indocyanine Green (ICG) fluorescent angiography in assessment of gastric conduit perfusion. We also have a very active endoscopic service treating early tumors of the foregut, and also submucosal tumors. Often Laparoscopic-Endoscopic Combined Surgery is performed for various esophageal and gastric pathologies.


| | | |
| --- | --- | --- |
| | | |
Laparoscopic gastrectomy is increasingly performed in patients with gastric cancer, with Enhanced Recovery After Surgery (ERAS) program integral in management. Hospital stay is much shortened.
Aside from studies on surgical techniques, together with the Department of Clinical Oncology, various clinical trials and studies are performed, exploring different oncological treatment strategies. Appropriate patients are recruited in trials such as chemotherapy / chemoradiotherapy for esophageal cancer; chemotherapy, immunotherapy and intraperitoneal chemotherapy for gastric cancer.
Bariatric and Metabolic Surgery
According to a press release in 2017 from the Center for Health Protection, Department of Health, 57% of men and 43.6% women of the population are overweight or obese in Hong Kong. Obesity is associated with a series of medical conditions: type II diabetes mellitus (T2DM), hypertension, dyslipidemia, fatty liver, obstructive sleep apnea, joint problem, etc. Of these, T2DM tends to develop in Asian at a younger age and lower body mass index (BMI). Diabetic patients may die from cardiovascular complications or develop end-stage renal failure from diabetic nephropathy.
Diet and life style modification was once regarded as the main stay of treatment for obesity; however, only a 5% of total body weight loss is possible under professional supervision program, and intensive lifestyle intervention is unable to reduce cardiovascular effects resulted from T2DM. Few medications are formally registered for weight control in Hong Kong, and not without side effects. On the contrary, bariatric or metabolic surgery can achieve a significant weight loss and treating metabolic syndrome at the same time. For Asian, the consensus on the indication of interventional treatment for obesity and metabolic disorder is defined by the Asia Pacific Chapter Consensus Statement of the International Federation for the Surgery of Obesity and Metabolic Disorders (IFSO) in 2011. It states that patients with BMI > 35 kg/m2 regardless of presence of comorbidity or patients BMI >/= 30 kg/m2 having unsatisfactory controlled T2DM or metabolic syndrome by lifestyle modification and medication treatment should be treated by surgery. Any interventional treatment for patients with BMI less than 30 kg/m2 should be limited to clinical trial with approval by research ethics committee under individual institutional review board. The algorithm on the indication of bariatric/metabolic surgery in Asian is shown in figure 1.
Since the first bariatric surgery performed in Hong Kong in 2002, there has been more than one thousand patients received surgery for the treatment of obesity or metabolic syndrome. The enthusiasm on this field gradually proliferates. Currently, there are 8 public hospitals providing bariatric and metabolic surgery services in Hong Kong. The number of operations exponentially increases from less than 10 to more than 200 every year. Queen Mary Hospital (QMH) is one of the leading centers in Hong Kong, with more than 30 bariatric procedures performed every year. In view of the increasing demand of bariatric surgery service, selected patients may undergo surgery in Tung Wah Hospital (TWH) since 2016. The result of 123 patients who underwent bariatric surgery in QMH from 2007-2016 is promising. 86% underwent laparoscopic sleeve gastrectomy. There was zero mortality and morbidity rate was 3.3%. The mean percentage of excess body weight loss at 3-year and 5-year was 55.4 +/-27.2% and 44.5 +/- 25.0%, respectively. This is comparable to the result of other countries announced in the Third International Summit for Sleeve Gastrectomy: 57.3-62.7%. Sixty-four (52%) patients had T2DM before surgery. The use of diabetic medications can be reduced in most patients, and about 30% of T2DM patients can achieve a satisfactory glycemic control without medications (figure 2).
Bariatric/Metabolic Surgery clinic is operated in Block S4, QMH every Thursday afternoon. Our clinic encompasses dedicated surgeon, physician, physiotherapist, dietician, and clinical psychologist. Non-invasive treatment options include dietetics intervention, medical therapy and behavioral therapy. Surgery is offered in selected patients who are keen and eligible for surgery. The procedures that we advocate are mainly laparoscopic sleeve gastrectomy and laparoscopic Roux-en-Y gastric bypass (figure 3). We welcome referrals and consultations from all medical specialties. Let's work together to combat obesity!
Figure 1 Algorithm on the indication of metabolic / bariatric surgery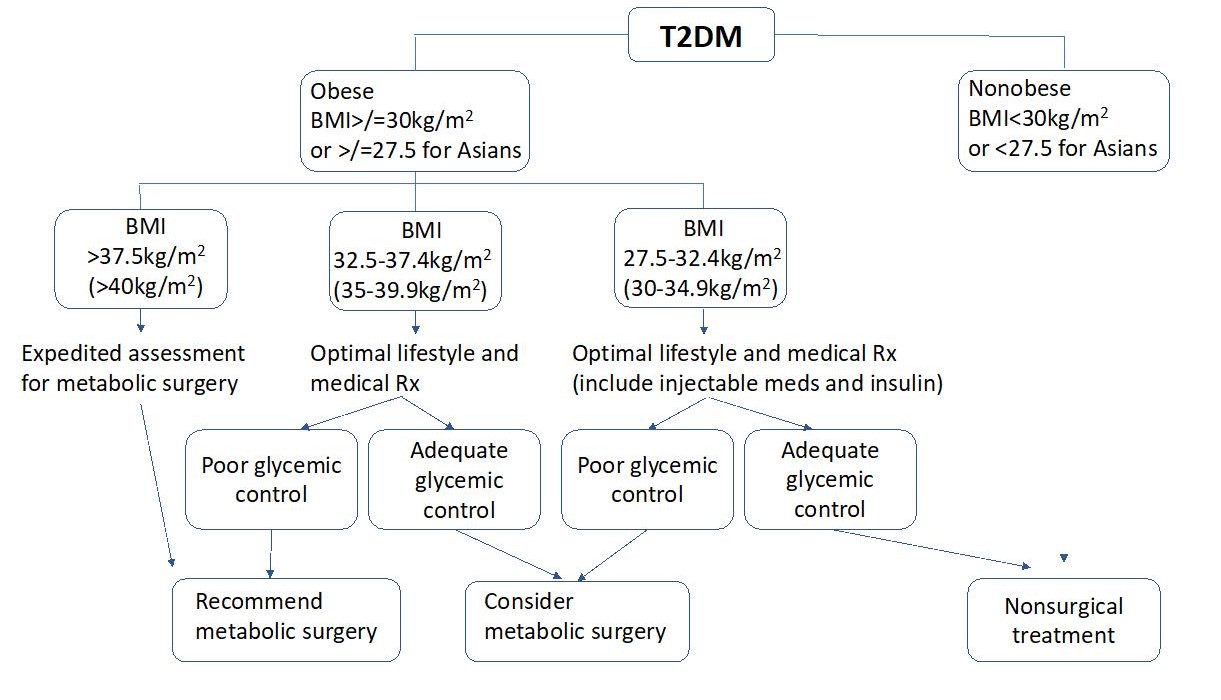 Note: All BMI action thresholds reduced by 2.5 kg/m2 compared to Western population
Figure 2 Post-operative diabetic medication usage for patients treated in Queen Mary Hospital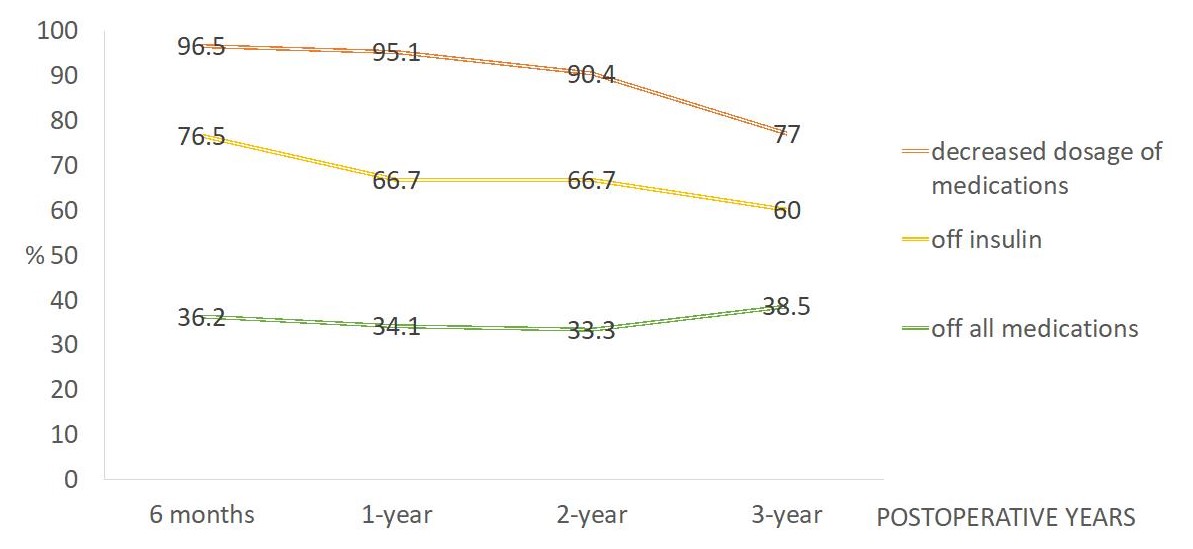 Figure 3 Laparoscopic Sleeve Gastrectomy (A) and Laparoscopic Roux-en-Y Gastric Bypass (B)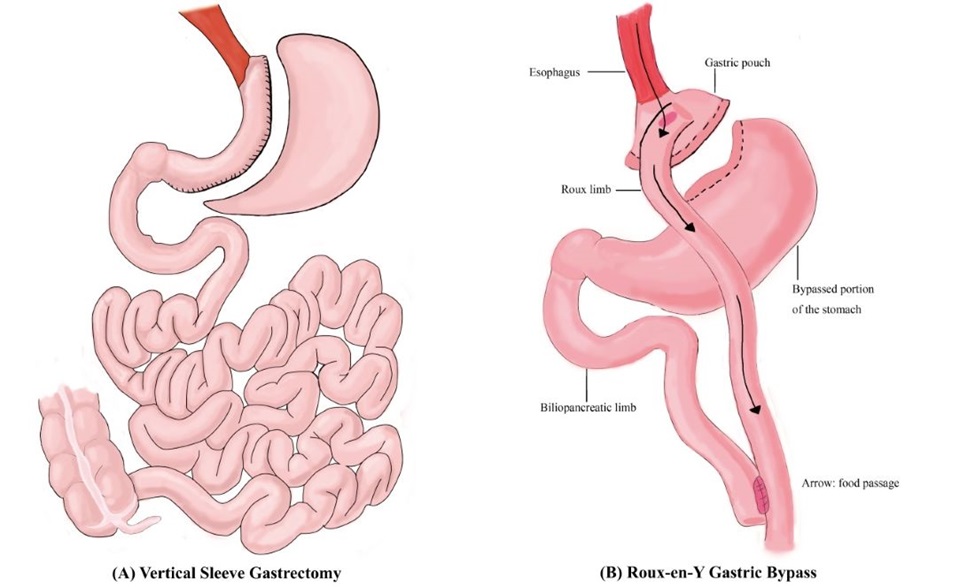 Gastroesophageal Reflux and Functional Upper Gastrointestinal Diseases
Our center is fully equipped to assess and treat various functional UGI diseases, including gastroesophageal reflux disease and various motility disorders of the esophagus. A functional laboratory investigates patient with High Resolution Manometry (HRM), 24-hour pH and impedance monitoring are available.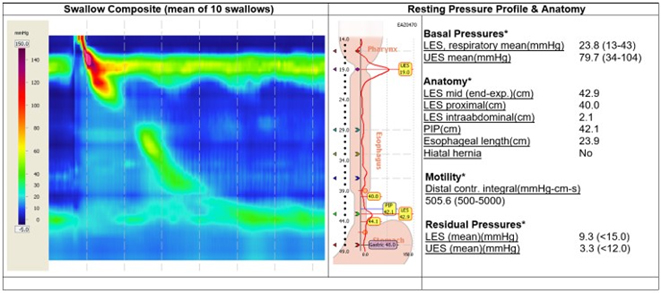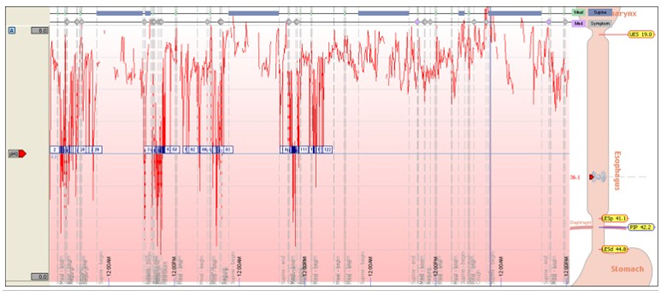 LINX
The Division of Esophageal and Upper Gastrointestinal Surgery of the Faculty's Department of Surgery has successfully performed Asia's first magnetic sphincter augmentation for gastroesophageal reflux disease (GERD) in June 2019. (Fig. 1-2)
A small, flexible ring of magnets was implanted around the lower esophagus using a minimally invasive keyhole surgical technique to restore the normal sphincter function. This novel device (the ring of magnets), which was approved by the US Food and Drug Administration (FDA), is specially designed to allow food to pass through the lower esophageal sphincter and at the same time prevent the gastric content to reflux back to the esophagus. The major advantage of this approach is to prevent alteration of the stomach anatomy and reduce the side effects of traditional anti-reflux procedure. The procedure (magnetic sphincter augmentation) provides an alternative for patients that are suffering from refractory GERD symptoms or complications. (Fig 3)
Background
Gastroesophageal reflux disease (GERD) is traditionally a western disease. However, with the increase in incidence of obesity and adoption of western lifestyle, the incidence of GERD in Asia has also increased. A recent study by HKUMed showed the prevalence of GERD had increased by 1.3% between 2002 and 2011[1] ; and a further increase was noted in a recent update to around 4.5% of the general population. Majority of the GERD patients can be treated by medication. However for patients who do not prefer long-term medication or those with persistent symptoms/complications despite medication, surgery may be indicated. Laparoscopic fundoplication with hernia repair is the gold standard and time-proven procedure for more than 50 years. The major side effects of this procedure include dysphagia, gas bloating syndrome, failure to belch and recurrence of symptoms. It also requires the mobilisation of the top part of the stomach to wrap around the lower esophagus to restore the sphincter function. Many newer endoscopic procedures have been introduced, but the anti-reflux results are not comparable to this gold standard procedure.
Novel device ∙ Simple technique ∙ Quick recovery
This new procedure (magnetic sphincter augmentation) involves making five keyhole incisions over the upper abdomen. With the help of a high-definition laparoscopic camera inside the abdomen and simple laparoscopic instruments, the loosened muscle opening in the diaphragm is repaired. The size of the lower esophagus is measured by a special sizer. A ring of 13-17 titanium beads with magnetic core is implanted around the lower esophagus, leaving the top of the fundus untouched. The procedure is simple and usually required less than two hours to complete. The patient can resume eating immediately after operation and discharged from the hospital the following day. This procedure has been well studied in the Western countries with more than 30,000 magnetic rings implanted. The anti-reflux results are comparable to laparoscopic fundoplication. 85% of patients are free from long term anti-reflux medication after the procedure[2] . With this procedure, patients suffer from less bloating sensation and improved ability to belch, as compared to classic fundoplication. The documented rate of erosion (invasion into esophagus/stomach) was 0.15% and the incidence of explant (removal of device) by endoscopic/minimally invasive mean is around 2.7%[3] .
Our division is the first to introduce this procedure in Asia, followed by Singapore. We have organised the first Asia training workshop on magnetic sphincter augmentation in January 2020, hoping to share our experience and extend this technology to other centres in Asia. (Fig 4-7)
https://www.hku.hk/press/press-releases/detail/20433.html
Please visit the website at http://www.med.hku.hk/news/ for press photo and presentation slides.
[1] Tan VP, Wong BC, Wong WM, Leung WK, Tong D, Yuen MF, et al. Gastroesophageal Reflux Disease: Cross-Sectional Study Demonstrating Rising Prevalence in a Chinese Population. Journal of clinical gastroenterology. 2016;50(1):e1-7.
[2] Ganz RA, Edmundowicz SA, Taiganides PA, Lipham JC, Smith CD, DeVault KR, et al. Long-term Outcomes of Patients Receiving a Magnetic Sphincter Augmentation Device for Gastroesophageal Reflux. Clin Gastroenterol Hepatol. 2016;14(5):671-7.
[3] Smith CD, Ganz RA, Lipham JC, Bell RC, Rattner DW. Lower Esophageal Sphincter Augmentation for Gastroesophageal Reflux Disease: The Safety of a Modern Implant. J Laparoendosc Adv Surg Tech A. 2017;27(6):586-91.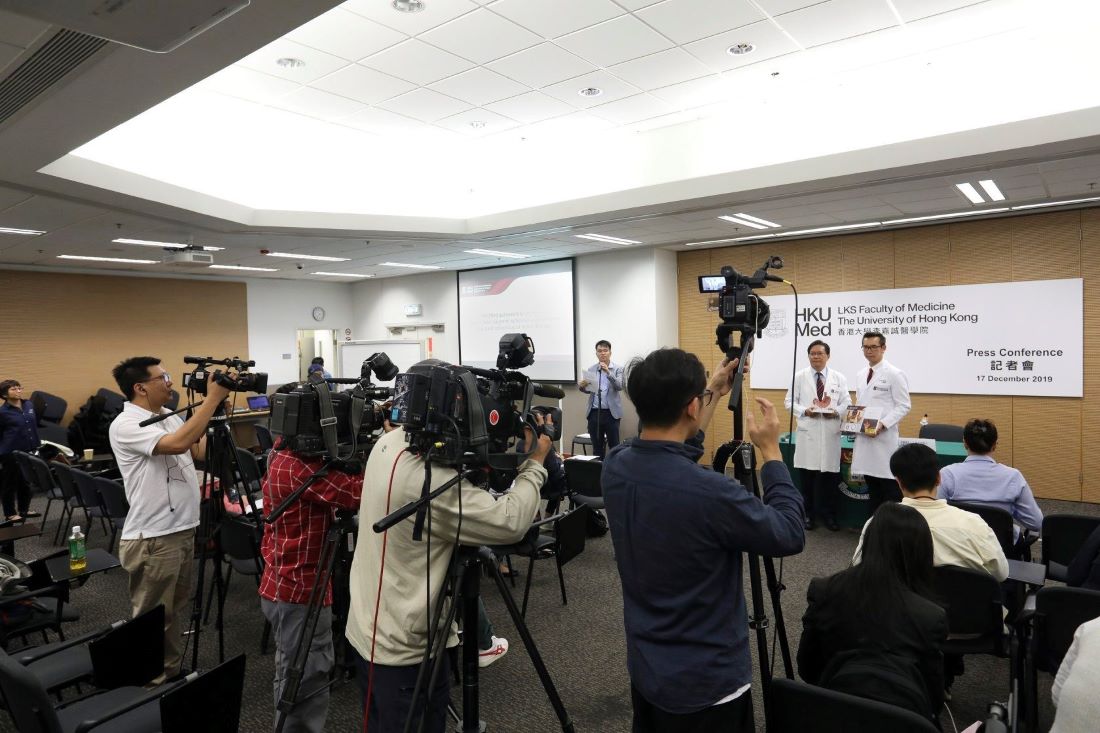 Figure 1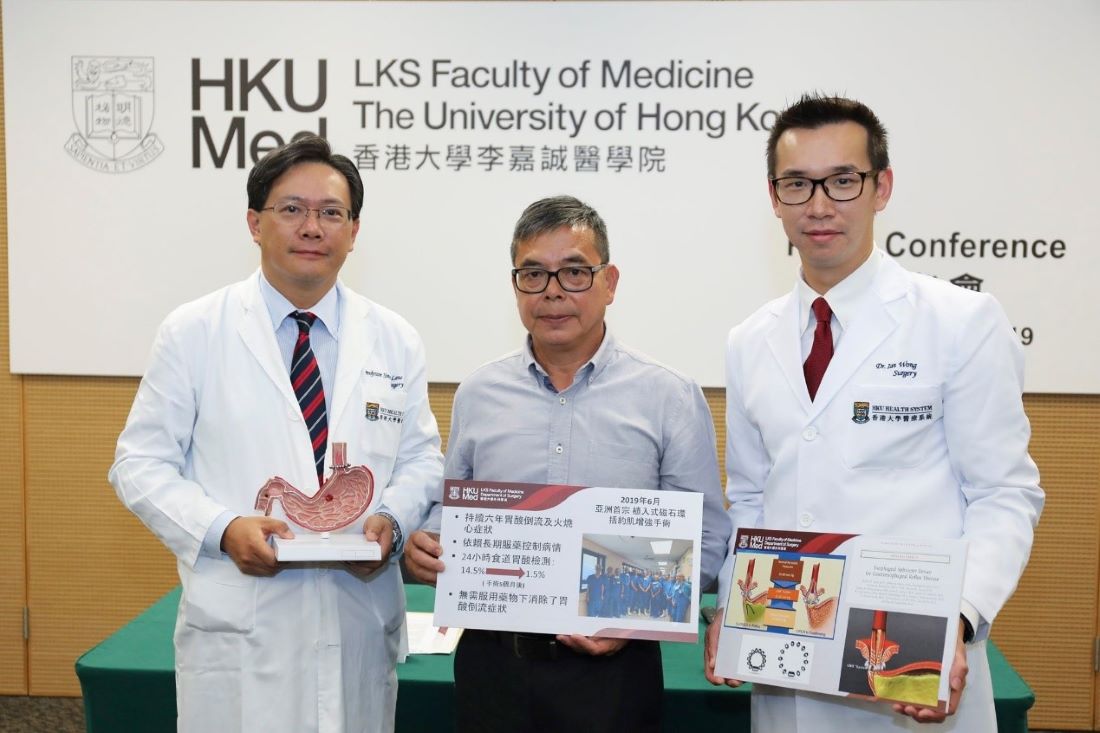 Figure 2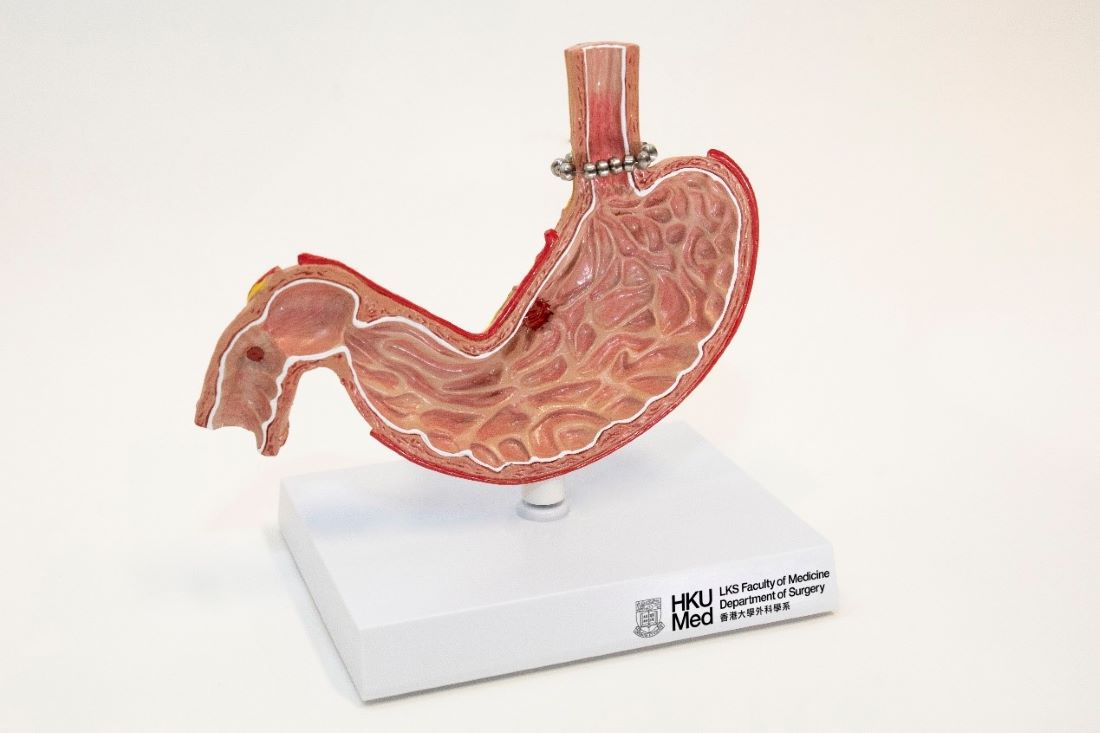 Figure 3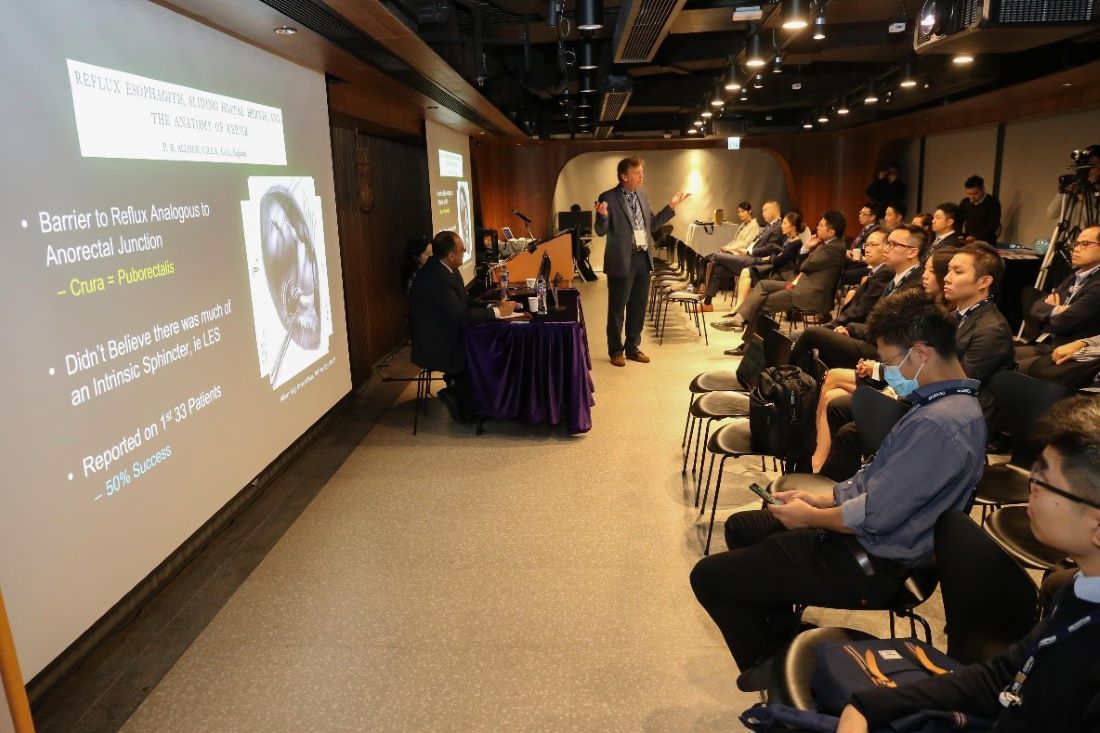 Figure 4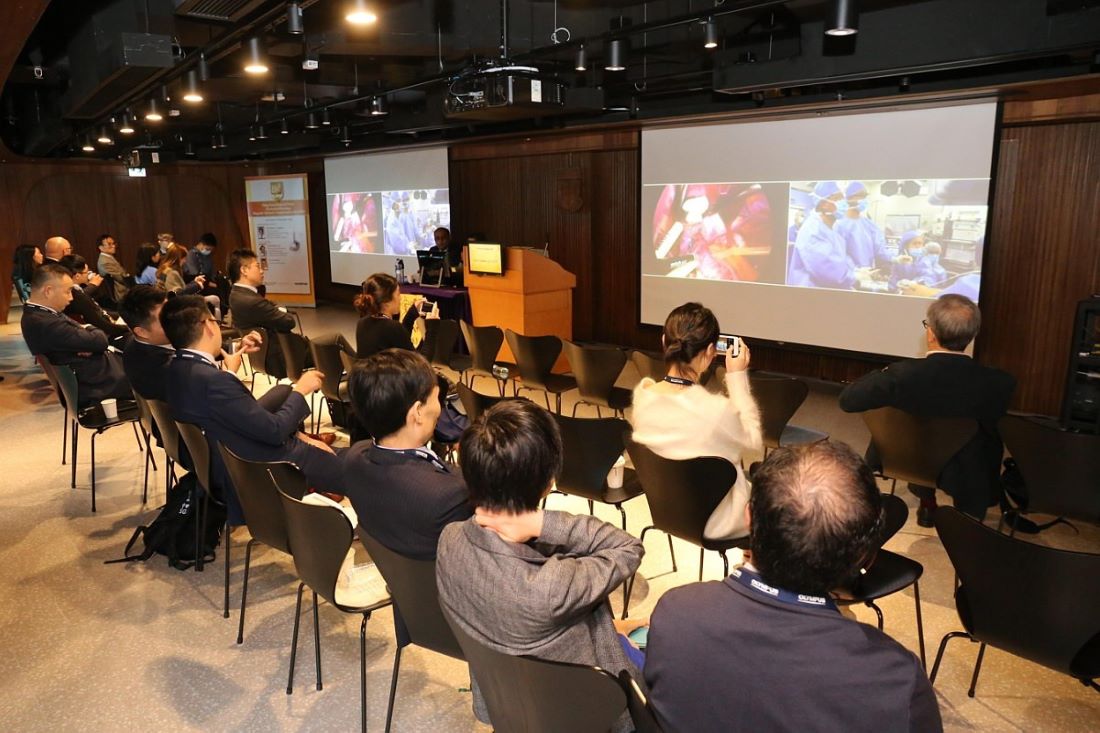 Figure 5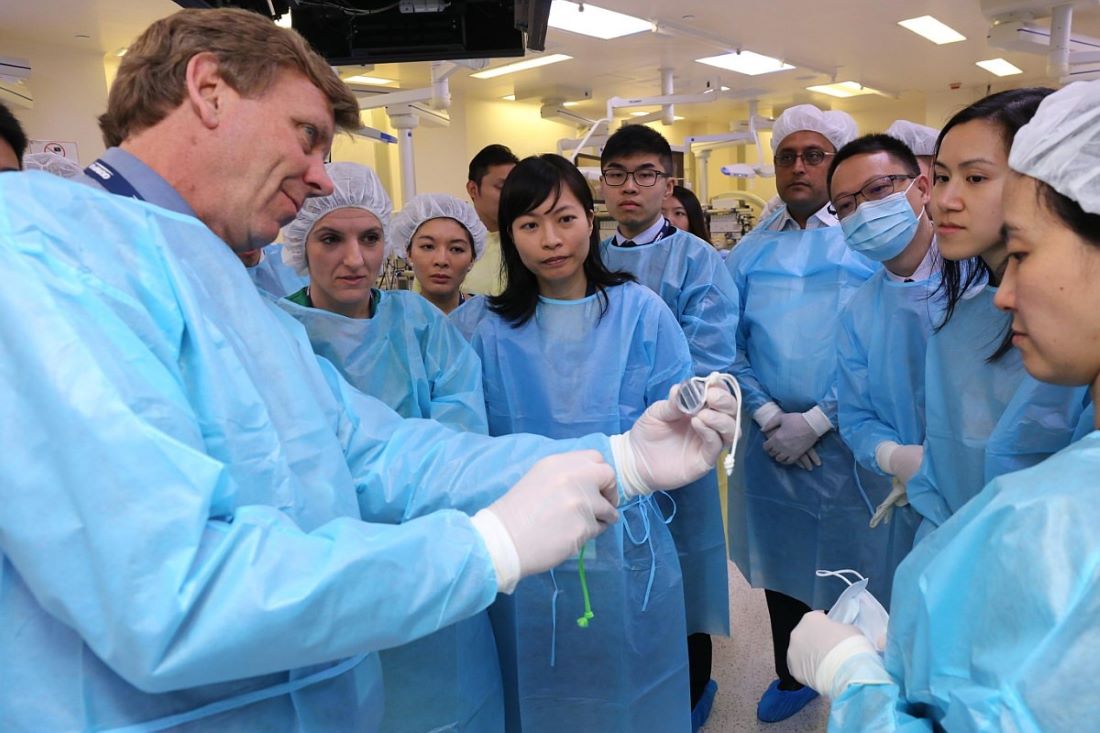 Figure 6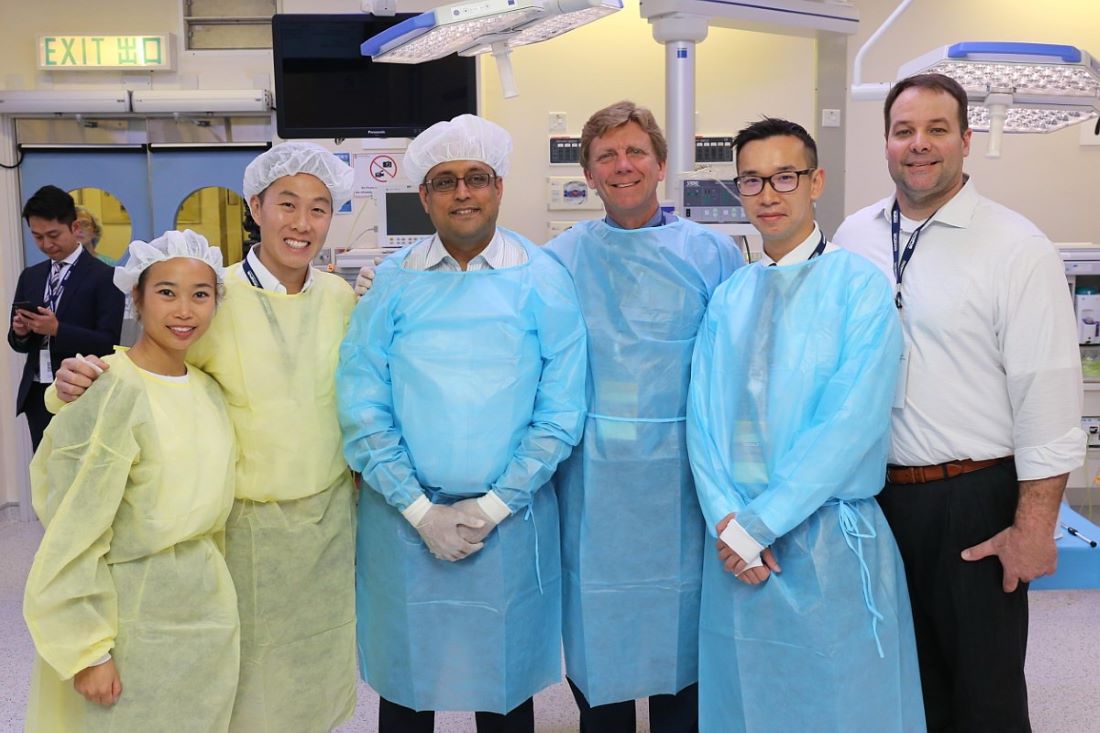 Figure 7
Endoscopic Service
Our team provides comprehensive endoscopic services to patients with neoplastic and benign foregut diseases. A wide range of therapeutic procedures were performed, which include endoscopic removal of foreign bodies, haemostasis for peptic ulcer bleeding, balloon dilatation of esophageal and pyloric strictures, placement of self-expandable metallic stents (SEMS) as well as advanced procedures like endoscopic submucosal dissection (ESD), submucosal tunnel endoscopic resection (STER) and per oral endoscopic myotomy (POEM). Furthermore, we perform video capsule endoscopy and small bowel enteroscopy for patients with small bowel disease, and gastrointestinal bleeding of unknown origin.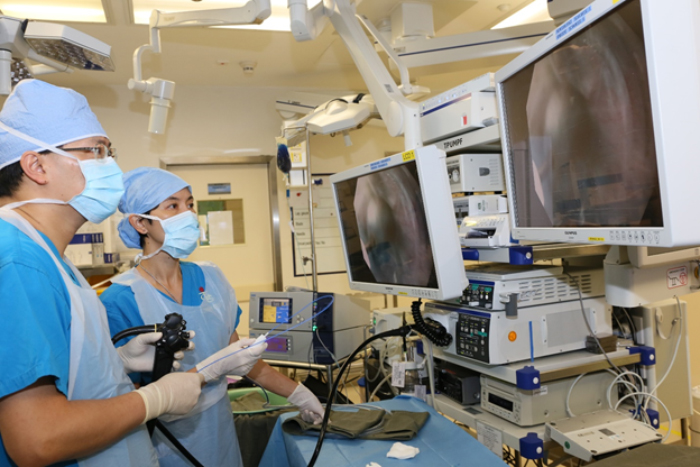 Training
The Division welcomes local and international fellow attachment. Various courses, for example endoscopic workshops, gastric surgery workshops are regularly organized. We actively participate in international multi-center clinical trials.
Clinic Session
Outpatient consultations are provided at the 4th floor, Block S, Queen Mary Hospital. Private patients are seen at the University of Hong Kong Department of Surgery Private Clinic at Room 201, Professorial Block, Queen Mary Hospital by appointment.
| | |
| --- | --- |
| Clinic | Schedule |
| Esophageal and Upper Gastrointestinal Clinic (neoplasm) | Tuesday pm |
| Weight Control and Metabolic Surgery | Thursday pm |
| Gastroesophageal Reflux Disease (GERD) and functional disorders | Thursday pm |
| Esophageal and Upper Gastrointestinal Clinic (general) | Friday pm |
Esophageal and Upper Gastrointestinal Surgery
Division Chief
Professor Simon Ying-Kit LAW羅英傑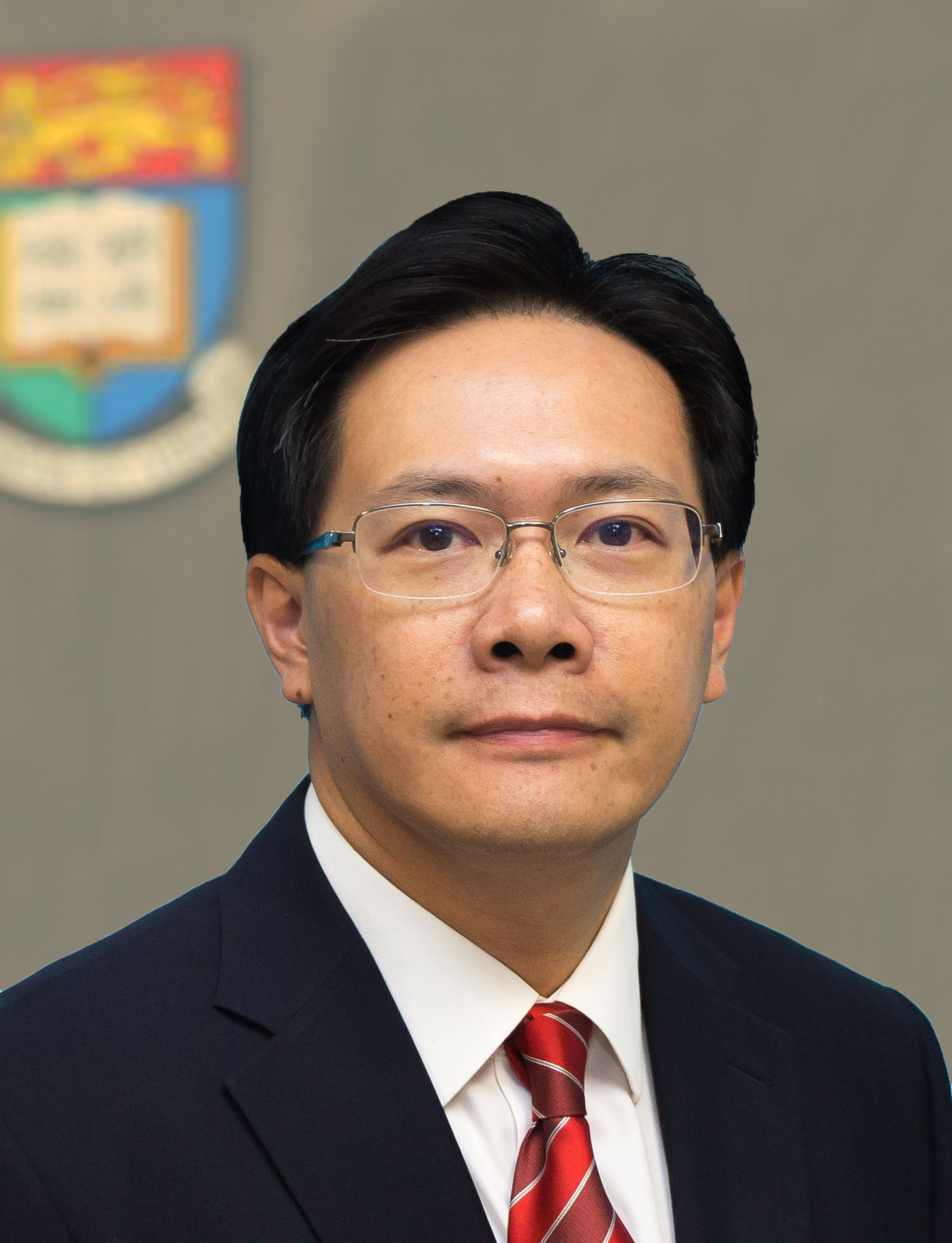 Department Chairperson
Chair Professor of Esophageal and Upper Gastrointestinal Surgery
Cheung Kung-Hai Professor in Gastrointestinal Surgery
MBBChir(Cantab), MS(HK), PhD(HK), FRCSEd, FCSHK, FHKAM(Surgery)
ORCID number http://orcid.org/0000-0002-6518-5806
Staff List
Name
Title
Position
Staff types
Telephone
Email
Professor Kent-Man CHU


朱建民

Deputy Division Chief
Clinical Professor
Academic staff
(852) 2255 4637
chukm@hku.hk

Dr. Fion Siu-Yin CHAN




陳小燕

Division member
Consultant
Hospital Authority staff
(852) 2255 4746
fsychan@hku.hk

Dr. Tsz-Ting LAW




羅芷婷

Division member
Associate Consultant / Honorary Clinical Assistant Professor
Hospital Authority staff
(852) 2255 4774
ltt486@ha.org.hk
Dr. Ian Yu-Hong WONG
黃宇匡
Division member
Clinical Assistant Professor
Academic staff
(852) 2255 4774
iyhwong@hku.hk

Dr. Kwan-Kit CHAN




陳君傑

Division member
Associate Consultant
Hospital Authority staff
(852) 2255 4774
ckk348@ha.org.hk

Dr. Claudia Lai-Yin WONG




黃麗賢

Division member
Associate Consultant
Hospital Authority staff
(852) 2255 4774
wly607@ha.org.hk