Contact Information
Telephone:
(852) 2255 2208
Fax:
(852)

2819 3780
Scope and Service
The Division of Plastic and Reconstructive Surgery is dedicated to deliver the highest standard of care. The team comprises of experts who specializes in various fields of plastic and reconstructive surgery. As a tertiary referral centre, our team handles a wide range of conditions, both congenital and acquired, benign and malignant, not only for Hong Kong patients, but also for those from Asia and worldwide. We are also one of two major burn centres in the territory.
Areas of special interest include:
Congenital conditions
Cleft lip and palate
Microtia
Craniosynostosis
Vascular lesions
A cleft lip and palate centre was established in Queen Mary Hospital in 1991. We adopt a multi-disciplinary approach, comprising of plastic surgeons, dental surgeons, ENT surgeons and speech therapists.
ILLUSTRATION
1. Unilateral cleft lip
Pre-operation (A,B) and post-operation (C,D).
2. Bilateral cleft lip

Pre-operation (A) and post-operation (B).
3. Microtia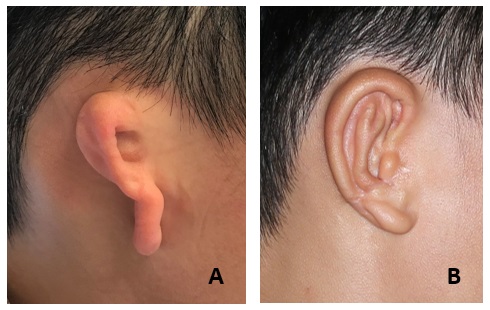 A. Pre-operation. B. Post-operation.
Burns
Major and minor burns
Flame / Electrical / Chemical Burns
Facial burn
Inhalational injury
Circumferential limb burns
Burn patients are managed in a designated ward with isolation and dressing facilities. Nursing staff in our burn unit are trained in burn wound management. Our skin bank enables processing and storage of human allograft skin for the management of extensive burns.
| | | |
| --- | --- | --- |
| Ward | Surgical bath | Skin bank |
Facial trauma
Facial bone fracture
Soft tissue injury
As a tertiary referral center and trauma center, we are frequently faced with patients who present with various degrees of facial injuries.
ILLUSTRATION
1. Facial fracture

A. Pre-operative CT scan. B. Post-operative CT scan.
2. Severed facial nerve requiring interposition nerve graft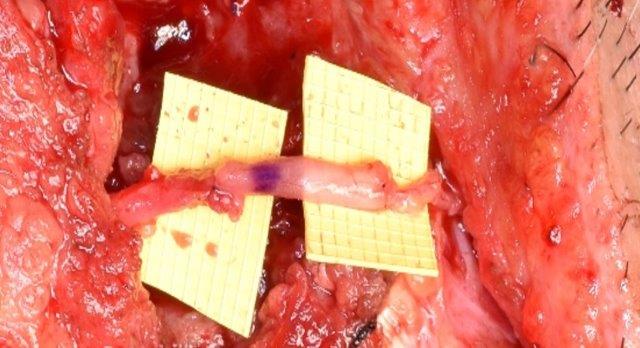 Skin cancer
Basal cell carcinoma
Squamous cell carcinoma
Melanoma
Angiosarcoma
Dermatofibrosarcoma protuberans
Resection of head and neck basal cell carcinoma followed by reconstruction: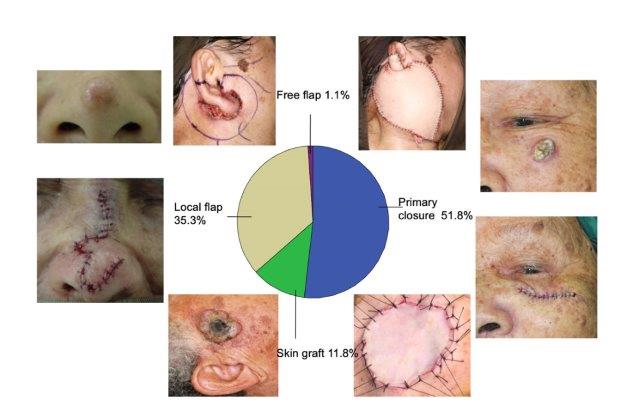 Breast reconstruction
Immediate / Secondary
Autologous tissue
Pedicle

Transverse Rectus Abdominus Myocutaneous (TRAM) flap
Latissimus dorsi myocutaneous flap

Free tissue transfer

Fat graft
Free TRAM flap
Deep Inferior Epigastric Perforator (DIEP) flap
Implant
Nipple areolar reconstruction
Body contouring
Facial rejuvenation
Brachioplasty
Mastopexy
Abdominoplasty
Thigh lift
Lipo-contouring
Training
Queen Mary Hospital is a fully accredited training centre for plastic surgical training by the College of Surgeons of Hong Kong. The Division of Plastic and Reconstructive Surgery offers opportunities for local and international fellows and students to attach and learn with the team. Globally-renowned professors are invited to give lectures from time to time. Various courses, including cadaveric and animal dissection workshops, are regularly organized.
| Date | Course |
| --- | --- |
| 2014 | Plastic Surgery Microvascular Course |
| 2015 | Wound Care & Plastic Surgery Symposium in Macau Kiang Wu Hospital & Tung Wah Hospital |
| 2016 | Plastic Surgery Microvascular Course |
| 2017 | Facial nerve symposium |
Clinical session
Outpatient consultations are provided on the 4th floor, Block S, Queen Mary Hospital. Private patients are seen on the 1st floor, Block J, Queen Mary Hospital by appointment.
Clinic
Schedule
Plastic Surgery Clinic (General)

Tuesday am

Thursday pm

Bariatric Clinic
Tuesday am
Cleft Clinic
Friday am
Craniofacial Clinic
Thursday pm
Facial Nerve Clinic
Thursday pm
Lymphoedema Clinic
Tuesday am
Scar Clinic
Tuesday am
Plastic and Reconstructive Surgery
Division Chief
Dr. Velda Ling-Yu CHOW 周令宇
Consultant
Honorary Clinical Associate Professor
MBBS(HK), MS(HK), MRCSEd, FCSHK, FHKAM(Surgery)
Staff List
Name
Title
Position
Staff types
Telephone
Email

Dr. Joseph Hon-Ping CHUNG




鍾漢平

Division member
Consultant (Part-time) / Honorary Clinical Associate Professor
Hospital Authority staff
(852) 2255 2208
---

Dr. Valerie Wai-Yee HO




何惠儀

Division member
Associate Consultant
Hospital Authority staff
(852) 2255 2208
---

Dr. George Chung-Ching LEE




李中正

Division member
Associate Consultant
Hospital Authority staff
(852) 2255 2208
---

Dr. Melody Man-Kuen WONG




王文娟

Division member
Associate Consultant
Hospital Authority staff
(852) 2255 2208
---