Liver Transplantation
Contact Information
| | |
| --- | --- |
| Telephone: | (852) 2255 3025 / (852) 2255 5907 |
| Fax: | (852) 2817 5475 |
Scope and Service
We performed the first successful liver transplant in Hong Kong in October 1991. Since then, the Liver Transplant Service at Queen Mary Hospital has developed into one of the largest programme of its kind in China and Southeast Asia.
Living donor liver transplantation for paediatric patients was introduced in 1993. We pioneered its application to adult patients using a left lobe graft in 1994 and a right lobe graft in 1996 for high- urgency situations. The innovative techniques provide life-saving options for desperately ill patients in the face of severe scarcity of deceased donor liver grafts.
In November 2003, Division of liver transplantation of Queen Mary Hospital officially became the designated Liver Transplant Centre in Hong Kong. The Central Liver Transplant Registry was formed. Priority on allocation of grafts depends on patient's Model for End Stage Liver Disease (MELD) or Paediatric End-Stage Liver Disease (PELD) score as adopted from the United Network for Organ Sharing in the United States.
Our new liver transplant ward was opened in October 2011.
By January 2016, a total of liver transplants have been performed for 134 paediatric and 1014 adult recipients. The overall 1-year, 3-year and 5-year survival rates were 92.9%, 88.2% and 85.8% respectively. For paediatric recipients, the rates were 93.6%, 91.0% and 91.0% respectively. For adult recipients, they were 92.8%, 87.9% and 85.1% respectively.
In 2010, we performed the first combined heart and liver transplantation successfully.
In 2011, a liver graft from a 2-year-old deceased donor was transplanted successfully to an adult.
Division Chief
Professor Albert Chi-Yan CHAN陳智仁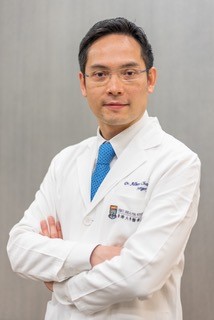 Clinical Professor

MBBS(Lond), MS, FRCSEd, FCSHK, FHKAM(Surgery)
Staff List
Name
Title
Position
Staff types
Telephone
Email

Dr. Wing-Chiu DAI




戴永釗

Division member
Consultant / Honorary Clinical Associate Professor
Hospital Authority staff
(852) 2255 3025
---
Dr. Cho-Lam Tiffany WONG


黃楚琳

Division member
Clinical Associate Professor
Academic staff
(852) 2255 3025
wongtcl@hku.hk

Dr. Sui-Ling SIN




冼瑞靈

Division member
Consultant / Honorary Clinical Assistant Professor
Hospital Authority staff
(852) 2255 3025
---

Dr. Miu-Yee CHAN




陳妙儀

Division member
Associate Consultant
Hospital Authority staff
(852) 2255 3025
---