Post-graduate Studies
Welcome to the Postgraduate Study website
Master of Surgery
Thesis Title
Author
Year
Evolving paradigms in the surgical management of intrahepatic cholangiocarcinoma - towards better oncological outcomes
Ma, Ka-Wing
馬家榮
2018
Bridging the knowledge gaps in adolescent idiopathic scoliosis: an emphasis on growth, flexibility and outcome measures
Cheung, Pui-Yin
鍾培言
2017
Strategies to improve the outcomes of patients with biliary atresia
Chung, Ho-Yu
鍾浩宇
2017
Malignant glioma in Hong Kong Chinese
Pu, Kan-Suen, Jenny
浦勤孫
2016
Management of biliary anastomotic strictures in living donor liver transplantation
Chok, Siu-Ho, Kenneth
竺兆豪
2015
Nasopharyngectomy with the da Vinci Surgical Robot
Tsang, King-Yin, Raymond
曾敬賢
2015
Application of high-intensity focused ultrasound ablation to patients with hepatocellular carcinoma and cirrhosis
Cheung, Tan-To
張丹圖
2015
Surgical management of pharyngoesophageal tumours
Chow, Ling-Yu, Velda
周令宇
2015
Application of the sentinel node concept in breast cancer surgery
Hung, Wai-Ka
熊維嘉
2011
Laparoscopic colorectal resection: the impacton clinical outcomes & strategies to further optimize its results
Poon, Tung-Chung, Jensen
潘冬松
2010
Natural orifice translumenal endoscopic surgery (NOTES)
Fan, King-Man, Joe
樊敬文
2010
Trauma system and traumatic brain injury in Hong Kong
Leung, Ka-Kit, Gilberto
梁嘉傑
2009
Management strategies for advanced stage of esophageal cancer/td>
Tong, King-Hung, Daniel
唐琼雄
2009
Posterior tibial flap: anatomical study and clinical experience
Chan, Yu-Wai
陳汝威
2008
Medialization thyroplasty for glottic insufficiency: achieving optimal outcome in Chinese patients
Lam, Kin-Yip, Paul
林建業
2008
Clinical applications of radiofrequency ablation for hepatocellular carcinoma/td>
Ng, Kwok-Chai, Kelvin
吳國際
2007
Anterolateral thigh flap: flap design and clinical applications
Ng, Wai-Man
吳偉民
2007
Cancer staging for differentiated thyroid carcinoma
Lang Hung-Hin, Brian
梁熊顯
2006
Donor perspective of right lobe adult-to-adult live donor liver transplantation
Chan, See-Ching
陳詩正
2005
Surgical treatment for advanced chronic venous insufficiency in Hong Kong
Ting, Chi-Wai, Albert
丁志偉
2004
Strategies to improve outcome of esophageal cancer: a study of morbidity, mortality, and prognosis afteresophagectomy
Law, Ying-Kit, Simon
羅英傑
2002
Inguinal hernia repair: the impact of ambulatory and minimal access surgery
Lau, Hung
劉雄
2002
Helicobacter pylori infection and gastroduodenal ulcer disease
Chu, Kent-Man
朱建民
2001
Strategies in the management of mid and distal rectal cancers with theuse of total mesorectal excision
Law, Wai-Lun
羅偉倫
2001
Optimizing parathyroid autotransplantation during thyroidectomy
Lo, Chung-Yau
盧寵猷
2000
Development of duodenum and duodenal atresia
Cheng, Wei
鄭偉
2000
Modulation of acute inflammatory response caused by surgical trauma ina mastectomy model
Chow, Wing-Cheong, Louis
周永昌
1999
Surgical strategies to improve long-term survival after hepatectomy for hepatocellular carcinoma
Poon, Tung-Ping, Ronnie
潘冬平
1999
Management of intestinal failure - parenteral nutrition, experimental small bowel transplantation and preservation injury of small bowelallograft
Chan, Kwong-Leung
陳廣亮
1999
Application of living donor liver transplantation to adult recipients in Hong Kong
Lo, Chung-Mau
盧寵茂
1998
The basis of surgical treatment of hypopharyngeal cancer
Ho, Chiu-Ming
何昭明
1997
Carcinoma of tongue: clinicopathological study
Yuen, Po-Wing
袁寶榮
1997
Characterisation of the biophysical and pathophysiological effects of hepatic cryosurgery
Lam, Chi-Ming
林志明
1996
Surgical treatment for neurogenic thoracic outlet syndrome
Cheng, Wing-Keung, Stephen
鄭永強
1993
Resection margin for hepatocellular carcinoma
Lai, Cheuck-Seen, Edward
黎卓先
1992
Influence of early prognostication and intervention on the outcome of acute biliary pancreatitis
Fan, Sheung-Tat
范上達
1992
Intracranial blood flow velocity following head injury
Chan, Kwan-Hon
陳君漢
1991
Surgery for post-radiotherapy cervical metastasis in nasopharyngeal carcinoma
Wei, William Ignace
韋霖
1991
Faculty members of Department of Surgery are actively involved in a wide array of clinical and scientific research aimed at understanding disease mechanisms, conquering disease, and improving quality of life. The department's leading edge research efforts are internationally recognized for excellence. The research program includes mutli-centre clinical trials to advance surgical practice and improve health care. The Department of Surgery's scientific research program is made up of several research laboratories. Our vast array of expertise allows us to perform cutting-edge critical care and experimental studies spanning the breadth of the surgical sciences.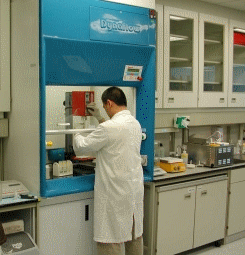 The Department includes various sub-specialities: Oesophageal Surgery, Gastroduodenal Surgery, Coloproctology, Hepatobiliary and Pancreatic Surgery, Head and Neck Surgery, Paediatric Surgery, Plastic and Reconstructive Surgery, Urology, Endocrine Surgery, Breast Surgery, Vascular Surgery, Cardiothoracic Surgery, Neurosurgery, Nose and Throat Surgery.
Research takes place in core and shared facilities in the Faculty of Medicine Building and Queen Mary Hospital. Collaborations exist among the local departments and oversea institutions.
For individuals interested in pursuing post-graduate training, click on each link to get an overview of each laboratory's mission and information. Resident participation in independent, ongoing research projects is also strongly encouraged.