Tung Wah Hospital
Contact Information
Address:
12 Po Yan Street, Sheung Wan,
Hong Kong SAR, China
General Enquiry:
(852) 2589 8538
Fax:
(852) 2548 1548
Staff
| Name | Qualifications | Position |
| --- | --- | --- |
| Dr. Kin-Yuen WONG | MBBS, FRCSEd(Gen), FCSHK, FHKAM(Surgery) | Chief of Service & Consultant |
| Dr. Joseph Hon-Ping CHUNG | MBBS, FRCS(Edin), FCSHK, FHKAM(Surgery) | Consultant |
| Dr. Rita Yuk-Kwan CHANG | MBBS, FRCS(Edin), FCSHK, FHKAM(Surgery) | Associate Consultant (BR) |
| Dr. Hok-Kwok CHOI | MBBS(HK), FRCSEd(Gen),FCSHK,FHKAM(Surgery) | Associate Consultant (CRS) |
| Dr. Terence Chun-Ting LAI | MBBS(HK), FRCSEd(Urol), FCSHK(Urol), FHKAM(Surgery) | Associate Consultant (URO) |
| Dr. Tsz-Ting LAW | MBBS(HK), FCSHK, FRCSEd(GEN), FHKAM(Surgery) | Associate Consultant (EGI & GEN) |
| Dr. Lily NG | MBBS, FRCSEd, FCSHK, FHKAM(Surgery) | Associate Consultant (GEN) |
| Dr. Julian TSANG | MB BCh BAO(NUI), LRCP&S(Ireland), MD(NUI), LMCHK, FCSHK, FRCSEd, FHKAM(Surgery) | Associate Consultant (CRS) |
| Dr. Melody Man-Kuen WONG | MBChB (Bristol), LMCHK, FCSHK, FHKAM | Associate Consultant (HN/PRS) |
Scope and Service
The Department of Surgery of Tung Wah Hospital provides both acute and extended medical care to surgical patients. A total of 170 in-patient beds are available for surgical patients with an annual hospital admission of 11,000 patients. It is also a teaching unit affiliated to Queen Mary Hospital and Department of Surgery, the University of Hong Kong.

There are altogether four clinical wards, five operating theatres and five day centers. The day centers include the Day Surgery Centre, the Geriatrics Urology Centre, the Breast Centre, the ENT Day Centre and the newly established Sleep and Breathing Centre. The theatre service on the 2nd and 10th floor, Centenary Building provides comprehensive operating services for a wide variety of surgery, including Hepatobiliary, Breast, Hernia, Proctology, Colorectal Surgery, Thyroid Surgery, Minimal Invasive Surgery, Plastic and Reconstructive Surgery, Urology and ENT Surgery. Over 5,000 operations, including 1,500 major operations are performed in these theatres annually. The abundance of clinical material of a general nature also makes our department renowned as an excellent teaching unit for medical students and surgical trainees. The 4-bed Special Care Unit on the 7th floor of Centenary Building provides intensive care for patients who are critically ill and those who need intensive monitoring after major operations.

We also run a share care program - Direct Access Day Surgery Scheme, to cater for patients with minor surgical problems and patients with per rectal bleeding problem. These patients are referred from primary care sector and will be discharged back to their referring doctors after their surgical problems are being investigated or settled.

We also established the first Surgical Palliative Care Service in Hong Kong. The service is to provide comprehensive physical and psychosocial care for patients with terminal cancers and to provide supportive and bereavement care for their family members. Recently, this service also works hand-in-hand with the Traditional Chinese Medicine Unit of Tung Wah Hospital.

In line with the mission of Hospital Authority, the Department of Surgery of TWH endeavours to provide quality patient-centered care and strive to achieve the spirit and tradition of Tung Wah Group of Hospitals as follows,
"To heal the sick and to relieve the distressed,
to care for the elderly and to rehabilitate the disabled."




The Department is organized into the following divisions:

Breast Surgery
Colorectal Surgery
Endocrine Surgery
ENT
Esophageal and Upper Gastrointestinal Surgery
General Surgery
Head & Neck Surgery (Include HNE)
Hepatobiliary & Pancreatic Surgery
Neurosurgery
Plastic Surgery
Urology
Vascular Surgery
Scope of services
Acute / ambulatory Care Service

Li Shiu Chung Memorial Day Surgery Centre
Boondy K B Pong Ambulatory Diagnostic Centre
Geriatric Urology Centre
Hung Chao Hong Integrated Centre for Breast Diseases

Extended Care Service

Incontinence Care Team
Surgical Palliative Care Team
Wound and Stoma Care Team
Specialist Outpatient Service

Constipation

ENT
General Surgery
Hernia
Plastic
Urology
Acute / ambulatory Care Service:
It includes specialist inpatients and day patients services, minor and major operative procedures, and endoscopy services. A wide range of operations (Table 1) and specialist outpatient services (Table 2) are provided in Tung Wah Hospital.
Theatre
Time
Monday
Tuesday
Wednesday
Thursday
Friday
OT I
9:00 - 13:00
CRS
HBP
URO
CRS <Wk 1> *
/GEN (KY Wong) <Wk 2 - 5>
URO
13:00 - 17:00
CRS
HBP
BR
ENT
URO
OT II
9:00 - 13:00
ENT
GEN <WK 1, 3 - 5>
EGI <WK 2>*
BR
ENT
URO
13:00 - 17:00
ENT
GEN <WK 1, 3 - 5>
EGI <WK 2>*
VAS <To follow GEN/EGI>
BR
ENT
URO
OT III
9:00 - 13:00
ECS
BR
HNP
VAS (CC Wong) <Wk 1>*
/GEN (CRS) <Wk 2,3,(4)>*
/EGI <Last Wk (4 or 5)>**
ECS
13:00 - 17:00
ECS <Wk 1, 2, 4, 5>*
/PRS <Wk 3>*
BR
HNP
VAS (CC Wong) <Wk 1>*
/ URO<Wk 2,3>*
/ EGI <Last Wk (4 or 5)> **
ECS
Table 1 - C2 OT sessions
Remarks:
* If the < week specific > list falls on a public holiday, the list will be cancelled.
** The last week of the month (4 or 5) will be assigned to EGI. If the specific last week falls on public holiday, the list will be cancelled.
Extended Care Service:
The Department forms a network with the Department of Surgery of Queen Mary Hospital and surgical patients are transferred from Queen Mary Hospital for operation, convalescence and rehabilitation.
To achieve high-quality care, 3 special care teams are set up and headed by specialist surgeons and nurses to provide up-to-date patient management. These include the Incontinence Care Team, Surgical Palliative Care Team, and Wound and Stoma Care Team.
Specialist Outpatient Service:
In connection with specialist outpatient service in Queen Mary Hospital, the department also provides outpatient clinics as listed in Table 2.
Time
Monday
Tuesday
Wednesday
Thursday
Friday
09:00 - 13:00

General Surgery

ENT
Constipation
ENT
ENT
ENT
14:00 - 17:00
ENT
ENT

General Surgery

ENT

Urology

Plastic

Hernia

ENT
Table 2 - Outpatient clinic schedule
Service and Centres of Excellence
Li Shiu Chung Memorial Day Surgery Centre
Contact Information
| | |
| --- | --- |
| Location: | 10/F, Centenary Building, Tung Wah Hospital |
| Telephone: | (852) 2559 9399 |
| Fax: | (852) 2546 0397 |
Day Surgery Service commenced in 1995 and is currently the only major day surgery service in Hong Kong Island West Cluster. Operations range from minor excision of benign skin lesions, to more advanced day laparoscopic cholecystectomy, laparoscopic / open hernia repair, stapled haemorrhoidectomy and various endo-urology procedures.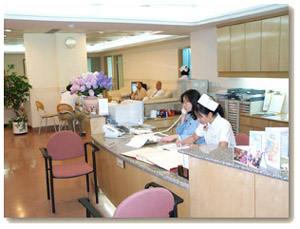 Telephone service as a major workload of Day Surgery Centre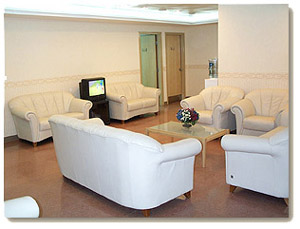 A comfortable waiting area of Day Surgery Centre
Scope of services
Pre-anaesthesia Assessment Clinic
Telephone pre-anaesthesia assessment
Perioperative care and recovery
Telephone follow-up service
24-hour telephone helpline service
Since its establishment in 1995, the Centre has treated over 20,000 patients. Total 545 and 2,736 operations are performed under GA/SA/IVS and under LA respectively in 2006. Annual patient surveys all showed patient satisfaction rates of over 90%.
Types of operations performed under general or regional anaesthesia include:
Open and laparoscopic hernia repair
Excision of breast lumps
Endo-urology procedures for stones and transurethral prostate operations
Circumcision
Excision of larger / deep cutaneous lesions and other plastic operations
Perianal operations and haemorrhoidectomy
Scrotal operations for varicocoeles, hydrocoeles and testicular biopsy
Diagnostic / therapeutic procedures for male infertility patients
Laparoscopic cholecystectomy
Trendelenburg operation of varicose veins
The centre also provides a Direct Access One-stop Day Surgery service. This is a share care program between linked primary care family physicians and hospital surgeons in the management of common, minor surgical problems in selected patients. The program consists of 2 major services:
Direct Access Day Surgery (DADS) – to tackle common problems such as simple excision of benign skin lesions, ingrown toenail excision, circumcision, and inguinal hernia repair.
Direct Access Per Rectal Bleeding Clinic (DAPRB) – to treat haemorrhoids by banding or sclerotherapy and to exclude malignancy by flexible sigmoidoscopy.
Ear, Nose and Throat Centre (ENT Centre)
Contact Information
| | |
| --- | --- |
| Location: | 4/F, Li Shiu Chung Memorial Building, Tung Wah Hospital |
| Telephone: | (852) 2589 8301 |
| Fax: | (852) 2549 2334 |
The dedication of the ENT Centre is to provide specialist care for the diagnosis, evaluation and treatment of common as well as highly complicated ENT disorders in our patients. The ENT Centre maintains a state of art standard of care for the patients with diseases of the ear, nose and throat and patients with head and neck cancers.
The ENT team comprises of experienced ENT specialist, ENT nurses and professional paramedical staff. Our audiologists are particularly experienced in the assessment and management of hearing problems and balance and inner ear disorders.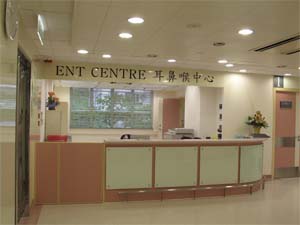 Reception counter of ENT Centre
A spacious waiting area of ENT Centre
Scope of services
General ENT Clinic
Sleep Disordered Breathing Clinic
Laryngology Clinic
Rhinitis / ENT Allergy Clinic
Radiofrequency Surgery Session
Anaesthetic Assessment Session
Minor operation Session
Audiological Assessment Service
Hearing Aid Prescription and Fitting
Otologic Implants – Cochlear and BAHA implants
Vestibular Assessment Service
Dizziness Balance Rehabilitation Exercise
Nursing Clinics –

Triage Service
Day Care Service

Educational Activities –

ENT Resource Centre
Certificate Course in Ear Nose and Throat Diseases for Nurses
ENT course for Family Medicine Trainees
Teaching in ENT for medical students from HKU
General public ENT series
Basic ENT Course for Health Care Workers

Collaboration with Traditional Chinese Medicine for treatment in ENT disease (planning)
Geriatiric Urology Centre
Contact Information
| | |
| --- | --- |
| Location: | 5/F, Centenary Building, Tung Wah Hospital |
| Telephone: | (852) 2589 8131 |
| Fax: | (852) 2547 5009 |
The Centre started in 2001 and provides a one-stop urology service with minimally invasive procedures, chiefly for the geriatric patients. It aims to minimize the traveling and waiting time for diagnosis and treatment of common urological diseases in the elderly. The number of in-patient bed stays will be saved from the use of minimally invasive therapy.
Over the years, an average of 1000 admissions annually have attended the Centre for management of various urinary dysfunctions.
Scope of services
Non-muscle invasive Bladder Cancer

Surveillance cystoscopy
Intravesical Therapy

Diagnostic Procedures for Prostate Cancer

Transrectal ultrasound-guided prostate biopsy
PSA Clinic

Continence Diagnostic Procedures:

Urodynamic study
Uroflowmetry and post-void residue urine volume

Continence Clinic / Services

Education on:

Bladder training
Pelvic floor muscle exercise
Clean intermittent self catheterization (CISC)

Extracorporeal magnetic Intervention (EXMI)
Change of suprapubic catheter

Telephone Follow up
Hung Chao Hong Integrated Centre for Breast Diseases
Contact Information
| | |
| --- | --- |
| Location: | 5/F, Centenary Building, Tung Wah Hospital |
| Telephone: | (852) 2589 8141 |
| Fax: | (852) 2547 5009 |
The Breast Centre Service in Tung Wah Hospital commenced in March 2001 and provides quality patient-centred care, with emphasis on advanced, relevant knowledge as well as skill breast services.
It centralizes and facilitates the deliver of breast services and to deliver holistic care in breast disease through education, counselling, prevention, as well as rehabilitation.
Scope of services
Chemotherapy for Carcinoma of Breast
Patient Breast Research Treatment
Clinic Patient Seminar
Prosthesis Fitting
Genetic Counselling and Information
Telephone follow-up
Incontinence Team
The incontinence team, headed by urologists and nurse specialists, provides assessment and education of patients with incontinence problem. The program encourages self care of patients and enhances early discharge of patients with continued outpatient management.
Wound Care Team
The Wound Care Team is leaded by Plastic Surgeon and wound care nurse specialist to provide wound prevention program, conservative and surgical treatment of chronic wound using up-to-date technologies and skills. An annual Comprehensive Wound Care Nursing Course is also held to develop and enhance nursing competence in the knowledge and practice on prevention of pressure ulcer and common wound care management.
The Surgical Palliative Care Team
The Surgical Palliative Care Team in TWH was established in 1999. The palliative care team comprises of surgeons, nurses, clinical psychologists, occupational therapists and medical social workers. The aim is to provide a familiar, home-feel environment for the care of surgically incurable diseases. Both patients and their families find it a relief to be in TWH rather than being sent to a new and unfamiliar hospice hospital. The centre also provides aromatherapy, massage therapy, music therapy and bereavement care.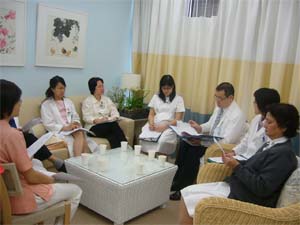 Meeting of multi-disciplinary team members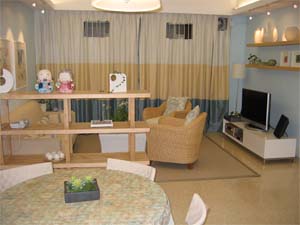 A home-feel environment for family gathering
TWGHs Sophia Wang Integrated Chinese & Western Medicine Treatment Centre
Contact Information
| | |
| --- | --- |
| Location: | 4/F, Centenary Building, Tung Wah Hospital |
| Telephone: | (852) 2589 8240 |
| Fax: | (852) 2548 6495 |
In view of increasing demand of Traditional Chinese Medicine (TCM) as a complementary medicine for patients with advanced malignancy, the TWGH Sophia Wang Integrated Chinese and Western Treatment Centre was set up in March 2006. This forms part of the palliative program. This pioneer service allows TCM Practitioners to conduct consultations and ward rounds in the centre. Both Chinese and Western doctors will work together to provide the best treatment as needed. The arrangement facilitates the prescription of herbal medicine which is as tightly regulated as that in Western medicine, with any adverse side-effects properly documented. The Centre will also provide training of TCM practitioners and involved in research on integration of Chinese and Western medicine.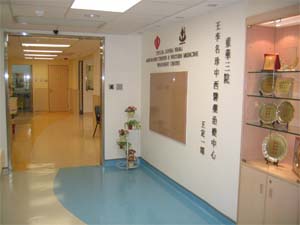 The newly opened Integrated Chinese and Western Medicine Treatment Centre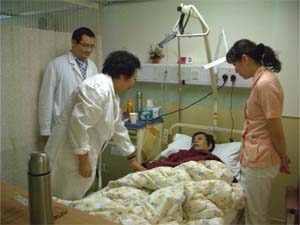 Joint consultation of CM & WM doctors in the care of liver cancer patient.
Continuous Nursing Education Centre
Over the years, TWH have organized several successful courses for nurses. With the active participation of the medical and nursing staff in TWH and QMH, we have organized the 12th ENT nurse course, the 4th Advanced Urology Nurse Course and the 3rd Comprehensive Wound Care Course in 2006. Apart from local participants, other attendees include those from the private sectors, Macau and mainland hospitals. The responses from the participants have been most encouraging. Through these courses, we hope to introduce our service to our counterparts and raise the standard of nursing care in Hong Kong. This will also benefit the specialization of our nursing staff and ultimately the standard of nursing care in the hospital. We are working along the line of Continuous Education Centre for the nursing staff.
Current Research Areas
Ambulatory Surgery
Minimal invasive surgery
Hernia surgery
Integration of Chinese and Western Medicine