Neurosurgery Research
The research laboratory of Neurosurgery engages in a wide range of basic and translational projects on diseases of the nervous system. Our research programmes cover areas ranging from neuro-oncology to neuro-vascular and neuro-trauma studies. We aim to provide preclinical evidence to guide and inform future studies and practices in clinical neuroscience.
Our research team consists of neurosurgeons, clinician scientists, basic scientists and postgraduate research students who collaborate for the rapid translation of pioneering researches.
We have established a number of innovative in vitro and in vivo platforms for studying different clinical conditions that have enabled us to form close collaborative ties with other multidisciplinary teams as well as pharmaceutical companies.
Current research themes
Neuro-oncology
Chemoresistance
Glioblastoma multiforme (GBM), the most aggressive malignant primary brain tumor of the central nervous system, is characterized by relentless disease recurrence despite continued advancement in surgery, radiotherapy, and chemotherapy. Resistance to temozolomide (TMZ), a standard chemotherapeutic agent for GBM, remains a major challenge. To characterize the molecular mechanisms underlying TMZ-resistance, we have established isogenic subclones of TMZ-resistant human GBM cells. This has led to the identification of novel therapeutic targets and biomarkers in combating TMZ-resistance in GBM.

The effect of TMZ on TMZ-sensitive (U87-S, U251-S and D54-S) and TMZ-resistant (U87-R, U251-R and D54-R) GBM cells.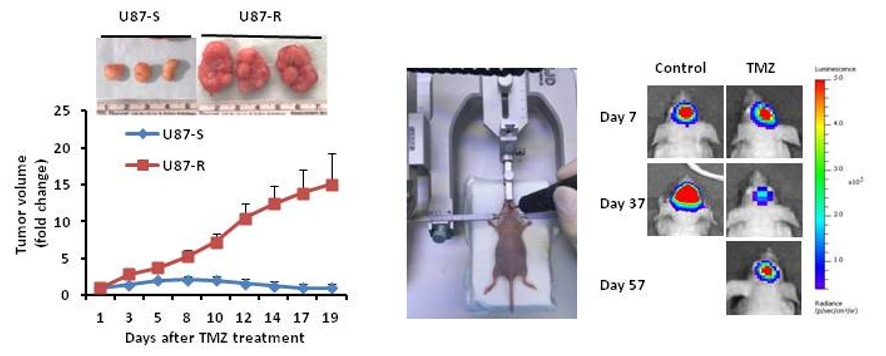 The antitumor efficacy of TMZ on TMZ-sensitive and/or TMZ-resistant U87 tumor xenografts in ectopic or orthotopic xenograft mouse model.
Autophagy
Autophagy is an evolutionarily conserved catabolic process for protein degradation and recycling of cellular components. It is activated in GBM cells treated with TMZ and mostly functions as a survival mechanism. We have established GBM cell lines that stably expressed mRFP-GFP-LC3 plasmid (U87). Combining with immunoprecipitation assays and morphology method (electronic microscope), autophagy flux can be detected and quantified. With this platform, we can monitor autophagy flux in GBM cells and investigate the role of autophagy under clinically relevant conditions, such as TMZ treatment, hypoxia, etc.
| | |
| --- | --- |
| | U87 cells showing alterations of autophagy flux when treated with TMZ (500uM for 72hr). TMZ increased autophagy flux (autophagosomes and autolysosomes are represented by yellow and red fluorescent puncta respectively), while drug treatment (CQ) suppressed autophagy flux by impairing maturation of autolysosomes. |
Long non-coding RNA
Long non-coding RNAs (lncRNAs) are a novel class of non-protein-coding transcripts that have been shown to play important roles in cancer. To evaluate lncRNA expressions in glioma, we have successfully established a lncRNA classification pipeline to identify lncRNAs represented on microarray. We showed that some lncRNAs could be exploited for the purposes of glioma sub-classification, diagnosis and prognostication. They may also serve as potential therapeutic targets and biomarkers for the treatment of glioma.
| | |
| --- | --- |
| | Hierarchical clustering of glioma samples from microarray dataset. LncRNAs are differentially expressed between normal brain tissues (blue) and gliomas (yellow). |
Neuro-vascular conditions
Intracerebral Hemorrhage (ICH)
Intracerebral hemorrhage (ICH) is a devastating type of stroke. It is characterized by spontaneous bleeding within brain parenchyma and is associated with a high rate of morbidity and mortality. Apart from surgical intervention, there is currently no effective therapy to improve survival or functional recovery.
We use two animal platforms - the autologous blood infusion model and the bacterial collagenase injection model - to mimic the clinical scenario of ICH and study its underlying pathophysiological mechanisms. We aim to identify target-specific neuroprotective agents not only to prevent neuronal death but also to promote neuro-regeneration after ICH.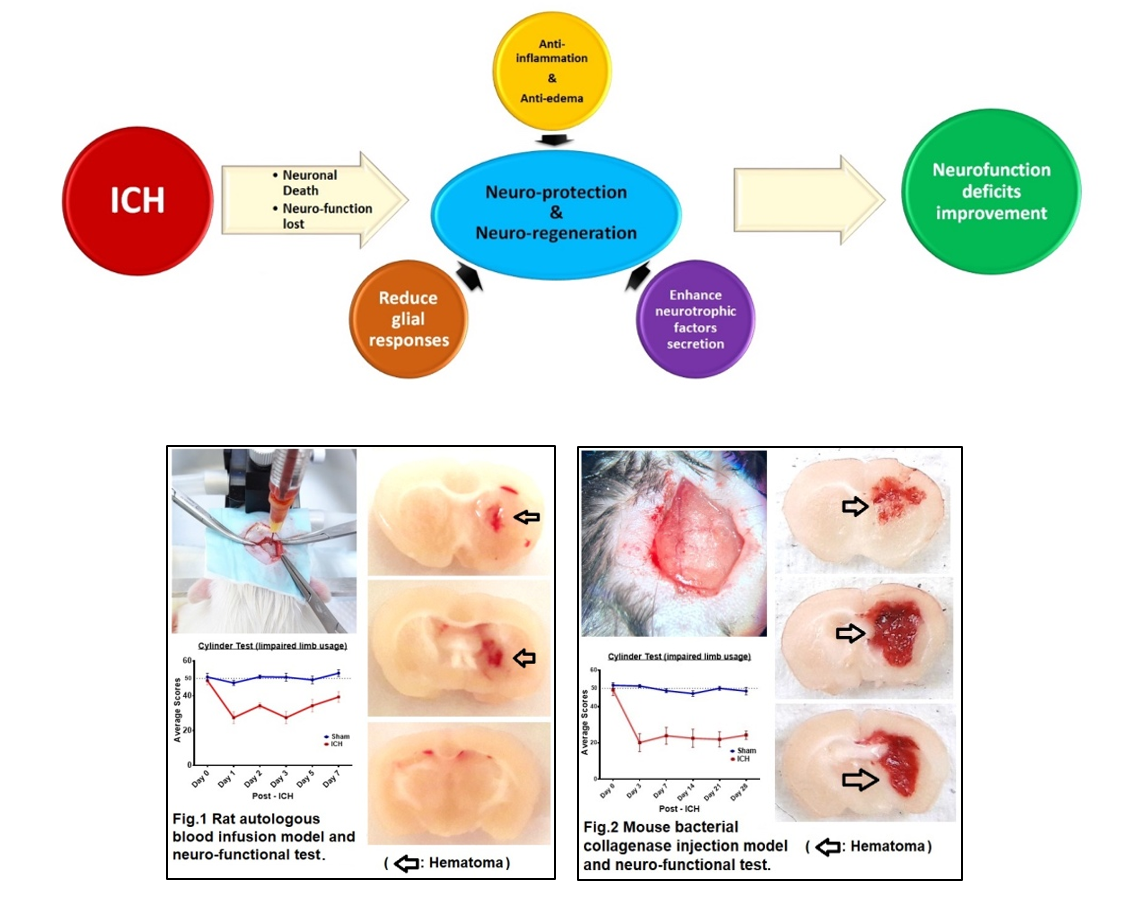 Neuro-traumatology
Spinal Cord Injury
Spinal cord injury (SCI) is a catastrophic event that significantly affect patients' physical, mental, and social well-being. Current therapies consisting of early operations for mechanical decompression, symptomatic relief, supportive care, and rehabilitation; the overall prognosis, however, remains poor. Both contusion and transection SCI models are well-established in our laboratory, and platforms for glial cell primary culture is also available. Our SCI team focuses on exploring neuroprotective drugs to promote cell survival as well as to accelerate regeneration after spinal cord trauma.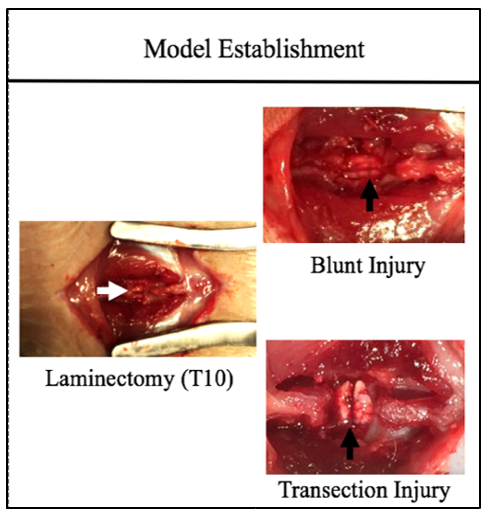 Demonstration of contusion and transection spinal cord injury models at T10 level in Sprague Dawley Rat. White arrowhead: exposure of dura and the cord after T10 laminectomy; Black arrowhead: injured site after contusion or blade cut.
Nerve Root Injury
Spinal nerve root injury may result in sensorimotor deficits permanently. Axonal regeneration into spinal cord is impaired at the dorsal root entry zone. We use an adult rat 5th cervical to 1st thoracic dorsal roots crush injury model to study the effect of systemic application of novel peptides in promoting promote sensory neuronal regrowth and functional recovery.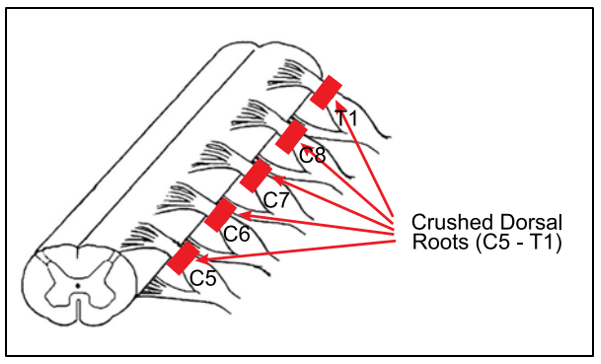 Surgical Brain Injury
Neurosurgical procedures (e.g. brain tumor resection) may result in injuries to the brain parenchyma. Regeneration is impaired by intrinsic inflammatory reactions, loss of extracellular matrix and scarring. The local application of novel biomaterials may potentially facilitate healing by providing an artificial matrix for cellular infiltration and regrowth. We investigate the use of self-assembling peptide nanofiber scaffold (SAPNS) for this purpose as well as other neuroprotective agents.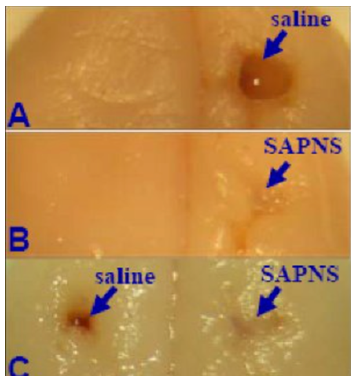 SAPNS resulted in smaller lesion cavities after cortical resections.
Related Publications
Sun S, Lee D, Ho AS, Pu JK, Zhang XQ, Lee NP, Day PJ, Lui WM, Fung CF, Leung GK. Inhibition of prolyl 4-hydroxylase, beta polypeptide (P4HB) attenuates temozolomide resistance in malignant glioma via the endoplasmic reticulum stress response (ERSR) pathways. Neuro-oncology. 2013 Feb 26;15(5):562-77.
Sun S, Kiang KM, Ho AS, Lee D, Poon MW, Xu FF, Pu JK, Kan AN, Lee NP, Liu XB, Man K. Endoplasmic reticulum chaperone prolyl 4-hydroxylase, beta polypeptide (P4HB) promotes malignant phenotypes in glioma via MAPK signaling. Oncotarget. 2017 Sep 22;8(42):71911.
Zhang X, Sun S, Pu JK, Tsang AC, Lee D, Man VO, Lui WM, Wong ST, Leung GK. Long non-coding RNA expression profiles predict clinical phenotypes in glioma. Neurobiology of disease. 2012 Oct 31;48(1):1-8.
Xu FF, Sun S, Ho AS, Lee D, Kiang KM, Zhang XQ, Wang AM, Wu EX, Lui WM, Liu BY, Leung GK. Effects of progesterone vs. dexamethasone on brain oedema and inflammatory responses following experimental brain resection. Brain injury. 2014 Nov 1;28(12):1594-601.
Kiang KM, Zhang XQ, Zhang GP, Li N, Cheng SY, Poon MW, Pu JK, Lui WM, Leung GK. CRNDE Expression Positively Correlates with EGFR Activation and Modulates Glioma Cell Growth. Targeted Oncology. 2017 Jan 1:1-1.
Zhang P, Sun S, Li N, Ho AS, Kiang KM, Zhang X, Cheng YS, Poon MW, Lee D, Pu JK, Leung GK. Rutin increases the cytotoxicity of temozolomide in glioblastoma via autophagy inhibition. Journal of Neuro-Oncology. 2017 Mar 14:1-8.
Major collaboration partners
The Hong Kong Polytechnic University - Department of Applied Biology & Chemical Technology, Hong Kong.
New A Innovation Limited, Hong Kong.
Noxopharm Limited, Australia.
Laboratory Members
Supervisor:
Professor Gilberto Ka Kit LEUNG (Tsang Wing-Hing Professor in Clinical Neuroscience)
Staff:
Dr. Anderson TSANG (Clinical Assistant Professor)
Dr. Pingde ZHANG (Senior Research Assistant)
Ms. Wai Man LEUNG (Senior Technical Assistant)
Students and Fellows:
Ms. Jia Xin LIU (MPhil Student)
Mr. Lei JIN (PhD Student)
Ms. Mei Yee KIANG (PhD Student)
Ms. Min Yao (PhD Student)
Mr. Ning LI (PhD Student)
Mr. Yin Cheng (PhD Student)
Mr. Zhi Yuan ZHU (PhD Student)
Dr. Hong Wu XU (Visiting Fellow)
Dr. Hai Tao SUN (Visiting Post-doctorate Fellow)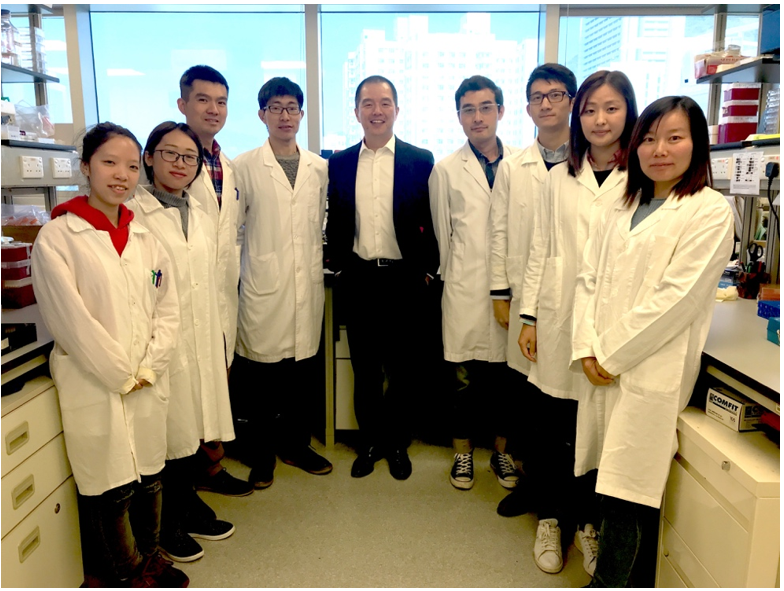 Contact
Prof. Gilberto K.K. LEUNG
Tel: +852 2255 3368
Email: gilberto@hkucc.hku.hk